15 Incredible Trips In Kentucky That Are Bucket List Worthy
When it comes to the best day trips in Kentucky, there's an overwhelming number of attractions in the state. Fortunately for locals, there's no need to break the bank or endure a long plane ride to experience an awesome trip. In Kentucky, we're lucky enough to have places right here in our own state that make for fun and memorable trips, no matter your age or interests. Check out these 15 incredible trips, weekend getaways, and staycations you can take in Kentucky: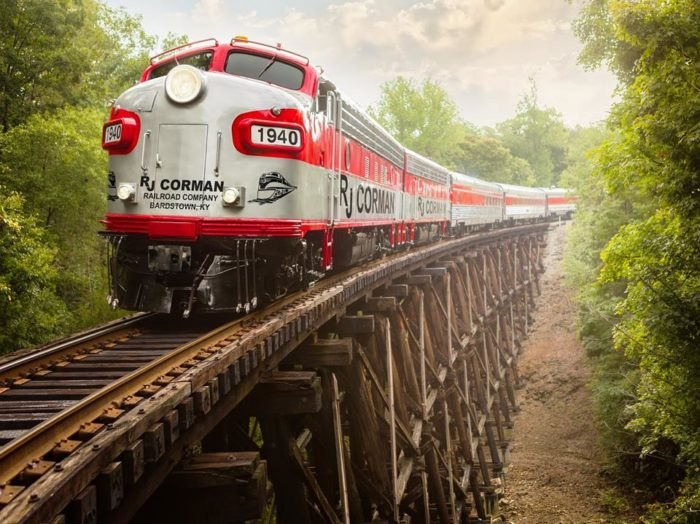 Does anyone have trips to any of these places planned for this year? What other attractions do you consider to be among the best trips to take in Kentucky? Share your thoughts in the comments!
Craving more local adventure? Check out these other incredible day trip destinations in Kentucky.
Address: Bardstown, KY 40004, USA
Address: Cliffview Resort, 455 Cliffview Rd Suite 101, Campton, KY 41301, USA
Address: Cumberland Falls, Kentucky 42634, USA
Address: The Falls Campground, 6072 KY-3, Louisa, KY 41230, USA
Address: Grand Rivers, KY 42045, USA
Address: Green River Lake, Kentucky, USA
Address: Kentucky Down Under Adventure Zoo, 3700 L and North Turnpike Road, at Exit 58, I-65, Horse Cave, KY 42749, USA
Address: Lagrange Quarry, La Grange, KY 40031, USA
Address: Lost River Cave, 2818 Nashville Rd, Bowling Green, KY 42101, USA
Address: My Old Kentucky Dinner Train, 602 N 3rd St, Bardstown, KY 40004, USA
Address: Natural Bridge Sky Lift Inc., 607 Skylift Dr, Slade, KY 40376, USA
Address: Auxier Ridge Trailhead, Tunnel Ridge Rd, Stanton, KY 40380, USA
Address: Shaker Drive, Shaker Dr, Lexington, KY 40504, USA
Address: Snug Hollow Farm Bed and Breakfast, 790 Cr-1221 #8951, Irvine, KY 40336, USA
Best Trips To Take In Kentucky
July 12, 2020
What are the best hidden gem restaurants in Kentucky?
If there's one thing that The Bluegrass State constantly reminds us, it's that we shouldn't judge a book by its cover. Hidden gem restaurants in Kentucky like Joe's Drive-In Chicken, Bread of Life Cafe, and Blue and White Grill are fan favorites.
What are the most unique restaurants in Kentucky? 
Do you have a taste for adventure? You'll find it at fun and quirky restaurants in Kentucky like Flamingo Row, Patti's 1880's Settlement, and Parkette Drive-In.
Are there any waterfront restaurants in Kentucky?
There certainly are! Waterfront restaurants like Waterfront Grille and Gathering in Winchester are both charming and romantic.
Address: Bardstown, KY 40004, USA
Address: Cliffview Resort, 455 Cliffview Rd Suite 101, Campton, KY 41301, USA
Address: Cumberland Falls, Kentucky 42634, USA
Address: The Falls Campground, 6072 KY-3, Louisa, KY 41230, USA
Address: Grand Rivers, KY 42045, USA
Address: Green River Lake, Kentucky, USA
Address: Kentucky Down Under Adventure Zoo, 3700 L and North Turnpike Road, at Exit 58, I-65, Horse Cave, KY 42749, USA
Address: Lagrange Quarry, La Grange, KY 40031, USA
Address: Lost River Cave, 2818 Nashville Rd, Bowling Green, KY 42101, USA
Address: My Old Kentucky Dinner Train, 602 N 3rd St, Bardstown, KY 40004, USA
Address: Natural Bridge Sky Lift Inc., 607 Skylift Dr, Slade, KY 40376, USA
Address: Auxier Ridge Trailhead, Tunnel Ridge Rd, Stanton, KY 40380, USA
Address: Shaker Drive, Shaker Dr, Lexington, KY 40504, USA
Address: Snug Hollow Farm Bed and Breakfast, 790 Cr-1221 #8951, Irvine, KY 40336, USA