This Swimming Spot Has The Clearest, Most Pristine Water In Kentucky
When it comes to the best swimming holes in Kentucky, the Bluegrass State has a lot to offer. We have plenty of springs, rivers, falls, and lakes that are perfect places to cool off on a hot summer day. There is one swimming spot in Kentucky that stands out in a crowd because the waters are so pristine. It isn't a freebie spot, like some of the other swimming holes in Kentucky; however, it does offer a clean, controlled environment where you can cool off free of chemicals or motorized water sports. Falling Rock Park in LaGrange is a beautiful place to spend a sunny day in the Bluegrass and is definitely one of the best swimming holes in Kentucky.
Here are eight reasons to visit the pristine waters of this swimming hole in Kentucky: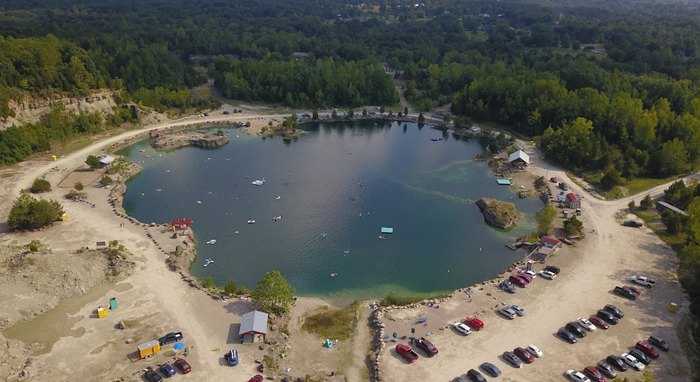 See what it's like to go diving here:
Overall, Falling Rock Park in Kentucky offers pristine waters, an adult atmosphere, and the perfect way to cool off on a hot, humid summer day. For more information on this beautiful spot in Kentucky, visit its website here. Address: 2201 Fendley Mill Road, LaGrange, KY, 40031
For more places to swim, check out these lovely swimming holes in Kentucky.
OnlyInYourState may earn compensation through affiliate links in this article.
More to Explore
The Best Swimming Holes in Kentucky
Where is the bluest water in Kentucky?
The bluest water in Kentucky is at:
Falling Rock Park
Laurel River Lake
Dale Hollow Lake
Falling Rock Park is definitely home to some of the bluest and clearest water in Kentucky. Some of the other swimming lakes in Kentucky with incredibly blue water are Laurel River Lake and Dale Hollow Lake, both of which are perfect for swimming, boating, and more.
Does Kentucky have any man-made swimming holes?
Man-made swimming holes in Kentucky include:
Kentucky actually has many more manmade swimming holes and lakes than natural ones. There are several quarries and reservoirs throughout the state, many of which are popular swimming lakes in Kentucky.
Do I need to look out for algae blooms in Kentucky?
Algae blooms in Kentucky are not a concern.
There have not been any recent reports of algae blooms in Kentucky that are toxic or harmful. If you're at all worried about the water quality of a swimming lake in Kentucky, you can always check that lake or park's website for updated information.
What are the best beaches in Kentucky?
The best beaches in Kentucky include:
Pennyrile Forest State Resort Park
Many are surprised to find several great beaches in Kentucky. Pennyrile Forest State Resort Park has the beach with the most beautiful shore, but there are many more lovely spots for digging your toes in the sand.
Do any Kentucky beaches have waves?
Beaches in Kentucky have tiny waves when it's windy.
Kentucky's beaches do not have waves like you would see on the coast, or even on a Great Lake. However, if the wind and conditions are right, you may see little waves and rapids as the water approaches the sand.
Related Articles
Explore Kentucky
Featured Addresses

2201 Fendley Mill Rd, La Grange, KY 40031, USA