18 Best Hikes in Kentucky: The Top-Rated Hiking Trails to Visit in 2023
From Grey's Arch to Cumberland Gap, we have some pretty epic scenery in Kentucky to enjoy any and every day. From national forests like Land Between the Lakes National Recreation Area cutting through western Kentucky near the Tennessee border to the Kentucky Bourbon Trail in north central Kentucky, there are unique and diverse natural wonders to enjoy. And what better way to do that than by going on a hike? We hope you enjoy some, or all, of our featured best hikes in Kentucky.
Best Hikes in Kentucky
With so many miles of trails to explore in the Bluegrass State, we have lots of options when it comes to getting outside and exploring nature. Whether it's a quick trip to Cumberland Falls State Resort Park and views of Cumberland Falls right from the parking lot, or it's a long trek through the wilderness – it's good to know we have options. Here are a few of the best hikes in Kentucky.
Best Short & Easy Hikes in Kentucky
If all you have time for is a quick hike to enjoy the Bluegrass State these next few trails are the best hikes in Kentucky that offer a good workout but won't take all day to complete.
Hardest Hikes in Kentucky
They say the test of a true outdoor adventurer is throwing on a heavy pack and braving the wilds of the wilderness. If you like to challenge yourself, this next set of the best hikes in Kentucky will certainly do the trick.
Best Waterfront Hikes in Kentucky
Whether you enjoy a hike to a waterfall, a hidden swimming hole, or a lovely little lake, these waterfront hiking trails in Kentucky will reward you with a cool place to rest. These are some of the best hikes trails in Kentucky with water features to enjoy along the way.
Best Winter Hikes in Kentucky
With relatively speaking mild winters in Kentucky, we can enjoy hiking year-round. Whether that is a stroll on a paved rail trail or a hike through a quiet nature preserve, there is always something refreshing about a hike in colder weather. And when we get a dusting of fresh snow on the trails it adds a whole new sense of wonder to an already beautiful scenic view.
Best Hikes near Frankfort
Some of the best hikes in Kentucky are those that are right next door. Whether you live in small towns like Corbin, Pineville, or Berea, or along the Kentucky Bourbon Trail near Lexington or Louisville, there are sure to be some great places to hike. Here are a few interesting hiking trails near Kentucky's capital city of Frankfort.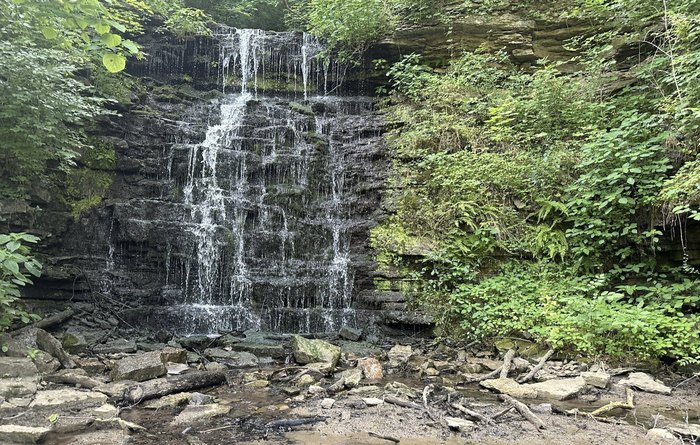 The best hikes in Kentucky offer a diverse experience of terrain, scenic views, and outdoor adventures. It doesn't matter if you enjoy a quick hike in a nature sanctuary or rough it on an overnight backpacking trip – it just feels good to get outside and enjoy some of the best views in the state. What do you think are the best hikes in Kentucky? Share your favorites with a comment.
OnlyInYourState may earn compensation through affiliate links in this article. As an Amazon Associate, we earn from qualifying purchases.
More to Explore
More places to hike in Kentucky
Does Kentucky have good hiking trails?
There are some amazing KY hiking trails out there. From the unique rock formations in Natural Bridge State Resort Park to rolling hills, the epic views in the Red River Gorge, and lush green trees in Central Kentucky. Here are a few places to find the best hiking trails in Kentucky:
Battleship Rock
Eagle Falls Trail
Indian Staircase Trail
What are the best months to hike in Kentucky?
The summer months in Kentucky can get hot and sticky, so it isn't always the best time to hike - unless, of course, your intention is to seek out a waterfall swimming hole and enjoy a cool dip. For the best hiking in Kentucky, when to go depends on your preferences, but generally, spring, fall, and even winter make for good times of the year to hike in KY.
Related Articles
Explore Kentucky