12 Scenic Trails To Explore In Kentucky, One For Each Month Of The Year
This year, we're resolving to get out and explore more. Kentucky is home to some of the most magnificent natural wonders in the country, and we're making it our mission to embrace all the state has to offer! For us, this means logging some miles on the trails, as there really is no better way to experience the beauty of the Bluegrass, than to *immerse* yourself in it. We've put together the following list of 12 scenic trails to explore in Kentucky, one for each month of the year. Think of this as your hiking bucket list for the New Year!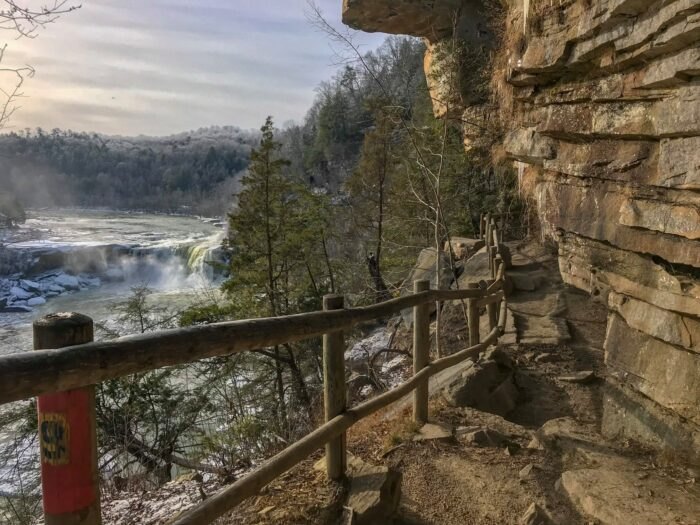 What are your favorite scenic trails in Kentucky? Share them with us in the comments below!
OnlyInYourState may earn compensation through affiliate links in this article.
Hiking In Kentucky
December 15, 2022
What are some of the best hikes in Kentucky?
Hiking in Kentucky is a great way to get outdoors and to reconnect with nature. Whether you're a seasoned hiker or a newbie, you'll find plenty of hiking trails in Kentucky. Here are just a few of the best hikes in Kentucky:
Follow the 3.5-mile trail to Copperas Falls which leads to a small but beautiful waterfall.
The Yahoo Falls Trail leads to the tallest waterfall in Kentucky.
Tallying less than two miles, the Eagles Falls Trail in Cumberland Falls State Resort Park boasts stunning views of Cumberland Falls.
Journey just over three miles on the Gray's Arch Trail Loop through Daniel Boone National Forest to soak in an abundance of beautiful views.
Dog Slaughter Falls Trail leads to one of the most beautiful waterfalls in Kentucky.

Are there any kid-friendly hikes in Kentucky?
Hiking in Kentucky is so much fun, and the kiddos can join in. Many of the best kid-friendly trails in Kentucky span just a mile or less. Here are a few kid-friendly hikes in Kentucky:
The half-mile Chimney Top Trail at Red River Gorge in Slade spans less than half of a mile and is perfect for watching the sunrise or the sunset.
At just half of a mile, the Cumberland Falls Trail at Cumberland Falls State Resort Park in Corbin leads to the breathtaking waterfall.
The Fire Tower Loop at Bernheim Forest in Clermont is just half of a mile and leads to a fire tower that boasts gorgeous views of the surrounding landscape.
Set off on the Cedar Sink Trail at Mammoth Cave National Park in Park City that wanders .08 of a mile past wildflowers and caves.
If you're up for a road trip, set off on this road trip to the best easy hikes in Kentucky.