The Most Delicious Illinois Road Trip Takes You To 7 Hole-In-The-Wall BBQ Restaurants
At times, there's nothing quite as satisfying as chowing down on some mouthwatering barbecue. Luckily, Illinois is filled with plenty of barbecue joints which can be found in the largest of cities and the smallest of towns. If you're looking for some of the best BBQ in Illinois, we have you covered on this road trip which will take you to seven hole-in-the-wall places located mainly around the central part of the state.
To help you on your way, use this interactive map. Feel free to rearrange the route, add stops, and customize it for your own needs.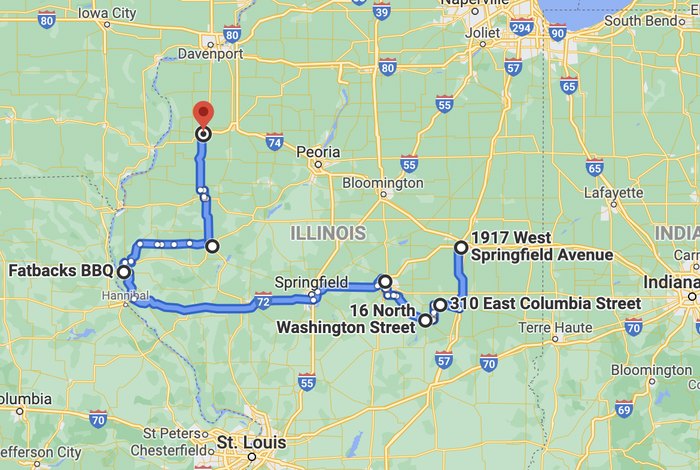 What do you think of these places on this hole-in-the-wall BBQ restaurants road trip in Illinois? You may know of additional places with some of the best bbq in the state. Where do you go for the best BBQ in Illinois? If your favorite isn't along this road trip, add it as a suggestion in the comments!
While the bbq road trip is savory, we have one that's a bit sweeter – our Best Donut Shops In Illinois Road Trip! 
OnlyInYourState may earn compensation through affiliate links in this article.
best bbq in illinois
February 17, 2023
What are some of the most popular restaurants in Illinois?
Dining in Illinois is such an adventurous experience -- you never know what hidden gems you'll discover! Of course, the options can be somewhat overwhelming. Below you'll find a list of our top recommendations for the best restaurants in Illinois:
17th Street BBQ
Bien Trucha
Kuma's Corner
Montarra Grill
D'Arcy's Pint
Black Dog
Pequod's
Gene and Jude's
Meson Sabika
One World Cafe
How many of these popular restaurants in Illinois have you tried?
What foods are famous in Illinois?
There are tons of iconic Illinois foods to sample. Below you'll find a list of some of the state's most iconic dishes:
Prairie Plates
Bacon-wrapped dates
Maid-Rite sandwich
Deep-dish pizza
Apple fritters
Hackney's Original French-Fried Onions
Grand Champion baby back ribs
Pizza pot pies
Cemita Atomica
Garrett mix
The Cozy Dog
One fun fact about Illinois foods is that the corn dog may have been perfected right here in the Prairie State. During the Illinois State Fair, the founders of Cozy Dog were allegedly the first to put a corn dog on a stick.
What are some other fun facts about Illinois?
The oldest community in Illinois is Peoria
The two previous capitals of Illinois before Springfield were Kaskaskia and Vandalia
Illinois is home to the largest bottle of ketchup
The word "jazz" was invented in Illinois by Benny Goodman and Gene Krupa
Twinkies were invented in River Forest, Illinois