17 Places In America Where Wild Animals Roam Free
There's something about seeing animals in the wild that's wholly wondrous and inspiring. It's a reminder that we're not the only residents of Planet Earth; our ecosystem is one of beauty and balance that must be respected. In the U.S., there are a number of places that remain remote and wonderfully wild, offering animal enthusiasts and naturalists opportunities to have their very own "National Geographic" kind of adventure. From wild horses to alligators, bears to bison, you'll experience total awe and wonder at these places in America where wild animals roam free.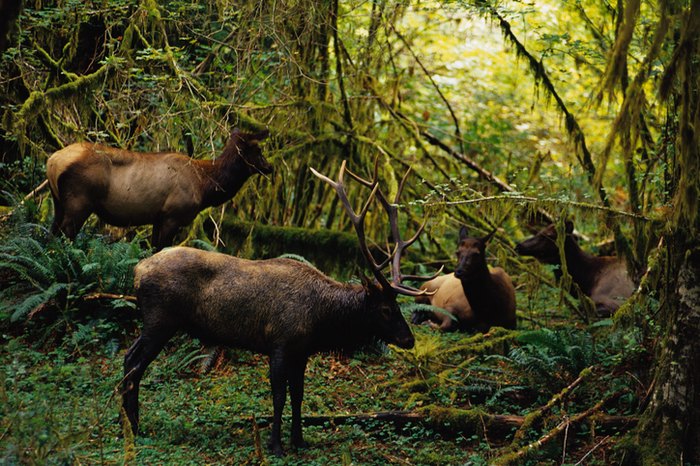 Please remember: these animals are wild, and these lands are precious. You can help keep yourself, other visitors safe, and wildlife safe by setting a good example and following general "leave no trace" principles, as well as the following hiking etiquette guidelines:
Remember to treat wildlife with proper caution and respect.
The safety of these animals, as well as your own, depends on everyone using good judgment, giving animals lots of room and not disturbing, feeding, or touching them.
Keep an eye on trails and, if applicable, the roads on which you travel.
The next time you're seeking an experience in nature, we highly recommend visiting one of these places and experiencing the most wild and wonderful residents in America firsthand.
Address: Assateague Island, United States
Address: Great Smoky Mountains National Park, United States
Address: Barataria Preserve, 6588 Barataria Blvd, Marrero, LA 70072, USA
Address: Channel Islands National Park, Ventura, CA 93001, USA
Address: Cumberland Island, Georgia, USA
Address: Everglades, Florida, USA
Address: Isle Royale National Park, Michigan, USA
Address: Katmai National Park and Preserve, King Salmon, AK 99613, USA
Address: Mauna Kea, Hawaii 96720, USA
Address: Minneopa State Park Campground, Minneopa State Pk Campground, South Bend Township, MN 56001, USA
Address: Olympic National Park, 3002 Mt Angeles Rd, Port Angeles, WA 98362, USA
Address: Point Reyes National Seashore, Point Reyes Station, CA 94956, USA
Address: Estes Park, CO 80517, USA
Address: Steens Mountain, Oregon 97721, USA
Address: Outer Banks, North Carolina, USA
Address: Theodore Roosevelt National Park, North Dakota, USA
Address: Yellowstone National Park, WY 82190, USA