These Are The 15 Most Charming Covered Bridges Across The Country
There's something so irresistibly charming about an old, covered bridge. Hand-built and often featuring intricate designs, covered bridges are exquisite works of architectural art. These structures are a beautiful reminder of a bygone era, but are becoming increasingly harder to find. But they do exist, and the ones that are still standing are resplendent relics worthy of your awe and admiration. Below you'll find the most historic and charming covered bridges across the country. Let these stunning structures inspire your next bucket-list-worthy adventure.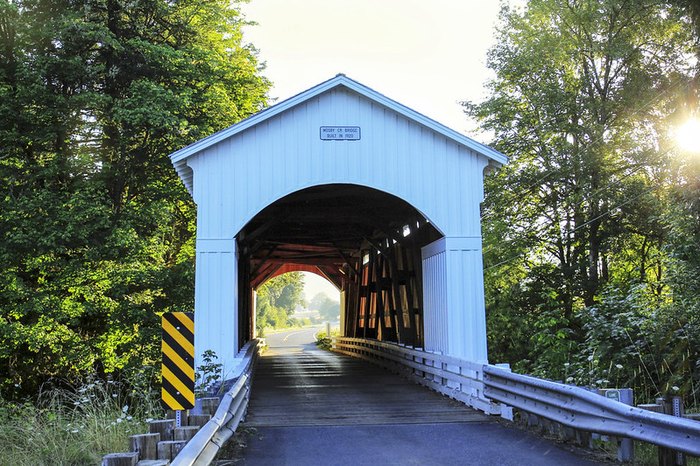 The original roadside attraction, covered bridges harken back to a simpler, slower time that's just plain delightful to revisit. If you're feeling nostalgic, these general stores are a trip back in time, offering visitors the opportunity to step inside their weather-worn doors and enter another another era.
Address: Sunday River Bridge, Sunday River, Newry, ME 04261, USA
Address: Flume Covered Bridge, Lincoln, NH 03251, USA
Address: Humpback Bridge, Midland Trail, Covington, VA 24426, USA
Address: Ada Covered Bridge, Ada, MI 49301, USA
Address: Arthur A. Smith Covered Bridge, Lyonsville Rd, Colrain, MA 01340, USA
Address: Bridgeport Covered Bridge, California 95946, USA
Address: Caine Road Covered Bridge, 4699 Caine Rd, Jefferson, OH 44047, USA
Address: Campbells Covered Bridge, 171 Campbell Covered Bridge Rd, Landrum, SC 29356, USA
Address: Felton Covered Bridge County Park, Graham Hill Rd, Felton, CA 95018, USA
Address: AM Foster Covered Bridge, 1645 Cabot Plains Rd, Cabot, VT 05647, USA
Address: Mosby Creek Covered Bridge, 77935 Layng Rd, Cottage Grove, OR 97424, USA
Address: Covered Bridge Street, Covered Bridge St, Newfield, NY 14867, USA
Address: Roseman Covered Bridge, 2451 Elderberry Ave, Winterset, IA 50273, USA
Address: Sachs Covered Bridge, Waterworks Rd, Gettysburg, PA 17325, USA
Address: Wawona Covered Bridge, 4100 Forest Dr, Wawona, CA 95389, USA