These 9 Beautiful Byways In Arizona Are Perfect For A Scenic Drive
If there's anything we can all agree on, it's that Arizona has some spectacular scenery. Look in any direction and you're bound to find something that will catch your eye. So, let's take a look at just a few of our state's roads that offer spectacular views to inspire your next road trip. All of these amazing Arizona byways are easily among the best scenic drives in Arizona – and we know you'll agree.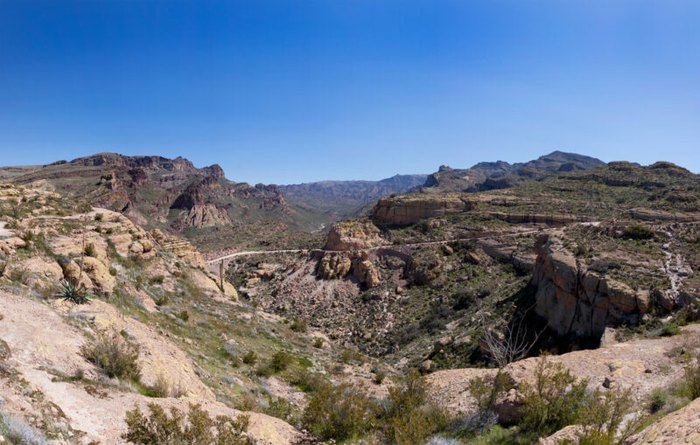 Those were some pretty amazing photos, right? They also look so much more impressive in person! Be sure to let us know which drives are your pick for the best scenic drives in Arizona. Check out more of our ideas for beautiful road trips in Arizona, too.
OnlyInYourState may earn compensation through affiliate links in this article.
Address: Apache Trail, Arizona, USA
Address: Coronado Trail, Morenci, AZ, USA
Address: Route 12, Rte 12, Cibecue, AZ 85911, USA
Address: U.S. 60, US-60, Superior, AZ, USA
Address: Historic Route 66, 13706-13734, E Old Rte 66, Parks, AZ 86018, USA
Address: Arizona's Joshua Tree Forest, Meadview, AZ 86444, USA
Address: U.S. 180, US-180, Flagstaff, AZ, USA
Address: Arizona 89A, AZ-89A, Sedona, AZ, USA
Address: Catalina Highway, Catalina Hwy, Arizona, USA
Best Scenic Drives In Arizona
June 30, 2021
What are some of the best Arizona byways?  
Arizona is easily one of the most beautiful states in the USA, and for lots of reasons; we're home to one of the most incredible natural wonders in the world – the Grand Canyon – and some of the most incredible landscape photos ever taken were taken here. It's only natural that we're chock-full of incredible byways to drive any time the whim strikes you. Some of the best include amazing drives like the SR-89A from Prescott to Flagstaff, where you'll pass through so many iconic Arizona scenes that you'll need to get out of the car and take pictures over and over. Historic Route 66 is an awesome drive to take if you have a whole weekend to do it, and the Apache Trail is beautiful, too. Or, if you're brave, you can take the epic Coronado Trail National Scenic Byway, which is said to be the curviest road in the US. No matter which one you choose, you'll find so many things to love about Arizona. 
What are the most scenic drives in Arizona?  
Where to start! There are so many that it's difficult to narrow it down to just a few, but we can try. Some of the best scenic drives in Arizona include Dry Creek Scenic Road, which takes explorers through beautiful, world-famous red rocks in Sedona. The US-93 from Wickenburg to Wickieup is another incredible drive, where you'll see the fascinating cousin to the desert yucca plants: tons and tons of Joshua Trees for as far as the eye can see. The Mingus Mountain scenic road going into Jerome is another great one.  
What are the most beautiful road trips in Arizona? 
Again, it's almost impossible to narrow it down to just a couple. Arizona is full of incredible roadways, and you can come up with a road trip for just about everything from ghost towns to haunted places to amazing canyons to incredible landscapes. For some ideas for your next beautiful road trip in Arizona, this article might serve up some awe-inspiring inspiration!