6 Unforgettable Road Trips To Take In Arizona At Some Point In Your Life
Do you have anything you'd like to change in your life? If "travel more" is one of those items on your future to-do list, then you'll want to check out this list of the best Arizona road trips! We're highlighting a few of our favorite road trips we've previously published that will hopefully inspire a bit of wanderlust in you. You can click the title of each road trip for details.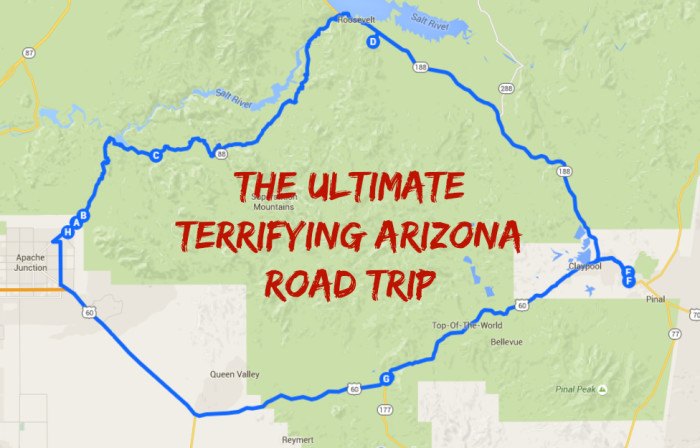 Which one do you hope to go on this year? Do you have any other road trips or travel plans for the year?
If new foods and restaurants to discover are more your style, then check out this article, The 11 Unassuming Restaurants To Add To Your Arizona Dining Bucket List.
OnlyInYourState may earn compensation through affiliate links in this article.
More to Explore
Best Arizona Road Trips
What are the most unique things to do in Arizona?
Arizona is full of fun things to do that anyone in the family can enjoy. You can take in the beautiful sights of canyons all over the state, and not just the Grand Canyon. Places like the Coal Mine Canyon are special in their own way and truly spectacular. The Coal Mine Canyon has colorful stripes along its ragged walls. Another unique attraction to visit is The Boneyard in Tuscon. As menacing as it may sound, it's actually very fascinating. It's an airplane graveyard and the largest of its kind, with hundreds of retired airplanes sitting out under the desert sun. It's part of the Davis-Monthan Air Base and allows tours.
What are the coolest attractions in Arizona?
Check out some of the most awesome Arizona attractions for thrilling, fun adventures. If you're in Flagstaff, check out Flagstaff Extreme. This canopy walk and obstacle course are not for people who are afraid of heights, that's for sure. Those that are willing to take on the challenge, however, are rewarded with great views and a fun time. If you're looking for something unusual to visit right in Phoenix, check out the Mystery Castle. This wacky-looking structure is certainly one-of-a-kind and the history behind it is just as interesting as its appearance.
What are the best day trips in Arizona?
If you don't have time for an entire weekend getaway in Arizona, there are plenty of day trips throughout the state that are the perfect way to fill a day off. You can visit the world's largest and best-preserved meteor craters in Winslow, Arizona. It takes a bit of a drive to get out there, but the view - and interesting history of the site - are worth it. A classic day trip to take in the Grand Canyon State that everyone should experience at least once is a visit to Tombstone. You'll be transported back to the wild west and can watch riveting shows, shop at the stores, and enjoy a couple of drinks at the local saloons.
Related Articles
Featured Addresses