This Scenic Road Trip Takes You To All 7 Wonders Of Arizona
People travel to our state from all over the globe to see its immense natural beauty. This list isn't anywhere near comprehensive, but it highlights seven of our favorite spots that are absolute must-visits in the Grand Canyon State. The drive takes about 15 hours total, so it's perfect for a weekend tour de force of Northern Arizona! Without further ado, here is our ultimate Arizona natural wonders road trip: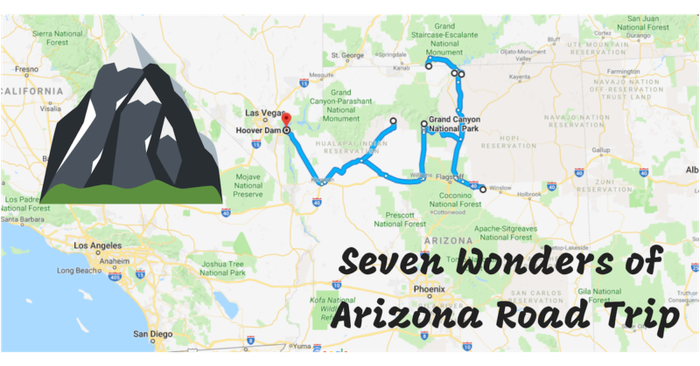 Who are you bringing on this road trip? What other natural wonders would you add? Let us know in the comments, and don't forget to share photos from your wondrous adventures in our Arizona Nature Lovers Facebook group! We love to see them.
OnlyInYourState may earn compensation through affiliate links in this article.
Address: Meteor Crater Natural Landmark, Interstate 40, Exit, 233, Winslow, AZ 86047, USA
Address: The Wave Trail, Kanab, AZ 84741, USA
Address: Horseshoe Bend, Arizona 86040, USA
Address: Antelope Canyon, Arizona 86040, USA
Address: Grand Canyon National Park, Arizona, USA
Address: Havasu Falls, Arizona 86435, USA
Address: Hoover Dam, Boulder City, NV 89005, USA
Arizona Natural Wonders Road Trip
March 29, 2021
What are some of the most scenic places in Arizona?
Arizona is a state that's chock-full of ridiculously scenic landscapes and views. It's hard to narrow it down to just a few scenic places, but some of our favorites include the incredible Oak Creek Canyon, between Flagstaff and Sedona, which includes the amazing Slide Rock State Park, and all the incredible red-rock views you could ever ask for. Also tucked into Oak Creek Canyon is West Fork Trail, which has been named one of the most beautiful hikes in the country. Of course, the Grand Canyon is no slouch, either, and it's easily one of the most scenic places in the world. If you'd like some more ideas, check this article out for inspiration.
What natural wonders in Arizona should I add to my bucket list?
Well, the Grand Canyon is the single most obvious one (seriously, though, you really need to visit it at least once or twice), but you have several other incredible natural wonders throughout the Copper State to choose from. Take a day trip to The Wave, up in the Vermillion Cliffs Wilderness, quite close to the Arizona/Utah border. Another natural wonder well worth your time is Horseshoe Bend, a famed photography spot also in Northern Arizona, up near Page. In the southern part of the state, there's always Saguaro National Park, an incredible forest of Saguaro cacti, which only grows in the southwest (being parts of southern California, Arizona, and Mexico).
What are some fun Arizona road trips?
If you're looking to hit the road either by yourself or with friends, you really can't go wrong with cruising the Arizona 89-A, either from north to south, or vice versa. It takes you through Prescott, Arizona, and up to the legendary Jerome ghost town. From there, you'll travel through Cottonwood and Sedona, and the view is amazing. Winding through Sedona, you'll see their adorable downtown area, and from there, you'll follow the highway through some of the most scenic landscape in the entire state until you reach Flagstaff. Flagstaff is amazing all on its own, but you can continue on the 89 from there, as well. You could also drive the historic Route 66 segment that runs through the state, too.