18 Best Hikes in Alaska: The Top-Rated Hiking Trails to Visit in 2023
Alaska is the largest US state, covering over 1,500,000 square miles, and for many who have never explored it, the mention of this state brings visions of only igloos, snow, and endless ice. However, this isolated state, known as "the last frontier," is a wildly diverse natural environment. Yes, there is a lot of ice; in fact, it has approximately 664 named glaciers, 40 of which flow from the immense Harding Ice Field. But it also has the largest temperate rainforest in North America, Tongass National Forest. And then there is the arid tundra, sometimes referred to as the "cold desert." There are meadows filled with wildflowers in the spring and summer, vibrant green hills and valleys, and dense forests of cottonwood, alder, and willow trees.
With 23 national parks, 34 state parks, over 12,000 rivers, at least three million natural lakes, and incredible wildlife, this largely wild and untamed state is full of natural beauty and wonder. It is no surprise, then, that Alaska is a hiker's paradise.
Best Hikes in Alaska
When it comes to the absolute best hiking trails in Alaska, there are some bucket list-worthy destinations that stand out and are popular for their unique features and jaw-dropping views. Whether you are a beginner hiker, a true mountaineer, or somewhere in between, you can enjoy one of these outstanding trails.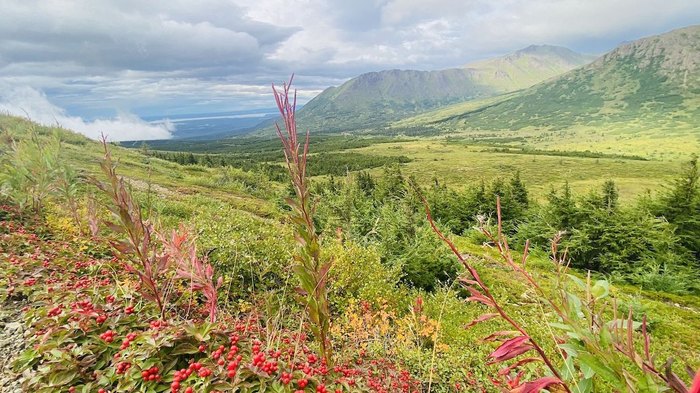 Best Short & Easy Hikes in Alaska
Whether you are looking for a leisurely stroll, a hike that the whole family will enjoy (even the littles!), or an accessible trail, we have rounded up a few of the best hiking adventures that do not take much time or effort, but hold nothing back when it comes to scenic vistas.
Hardest Hikes in Alaska
For serious hikers, there is nothing like the thrill of a new challenge, an opportunity to use, stretch, and develop their skills, and of course, to discover places and views that only the most intrepid are able to experience. The following trails are not for inexperienced trekkers, but they are what we believe to be the best places to hike in Alaska for the truly adventurous.
Best Waterfront Hikes in Alaska
There is something about water that draws us in, grounds us, and inspires us, from our bays and inlets to our lakes and rivers. There are numerous waterfront trails throughout the state to choose from, no matter what type of hike you are looking for. These hiking adventures have a little something for everyone, each offering something completely different, but all on the water.
Best Winter Hikes in Alaska
Cold temperatures, snow, and ice turn this state into one epic winter wonderland, and while hiking may be a bit more challenging, it is also a spectacular way to experience Alaska and to take in some truly out-of-this-world scenery. These hikes are the best trails we know of to enjoy in the winter months.
Best Hikes near Juneau
The state capital of Juneau is the second-largest city in the US by area and has a lovely walkable downtown area, which is the only part of the city that many people see. However, Juneau has incredible hiking trails that highlight the vast natural beauty of the capital and offer some unparalleled views.
Hiking is clearly one of the best ways to explore and appreciate Alaska's wild natural beauty, and there are so many trails to choose from. All that's left is to grab your hiking boots and decide which trail will be your first adventure.
Try AllTrails+ For Free! Not only does it navigate on the trail and provide condition information before you head out, but you can download offline maps, find trails by distance from you, enjoy 3D maps, and more to make hiking easier and more enjoyable than ever.
OnlyInYourState may earn compensation through affiliate links in this article. As an Amazon Associate, we earn from qualifying purchases.
More to Explore
Best Hikes in Alaska
Does Alaska have good hiking trails?
It is an understatement to say that Alaska has good hiking trails! With literally hundreds of hiking trails, there are options for every interest and ability level, from beginners and casual walkers to the most advanced hikers and climbers. Here are a few of the best hikes in Alaska:
Exit Glacier Trail to Harding Icefield, Seward
The Chilkoot Trail, Skagway
Byron Glacier Trail, Anchorage
Lower Winner Creek Trail, Girdwood
Anvil Mountain Trail, Nome
Hiking adventures in Alaska range from forest treks to ice cave exploration, from rocky mountain peaks to lakes and waterfalls, from popular trails to remote and isolated locations, and everything in between. 
What are the best months to hike in Alaska? 
While there are hiking adventures to be enjoyed at every time of the year, the best months to hike in Alaska are generally from May through October. These mainly summer months will offer the longest days, the clearest weather, the safest trail conditions, and the most opportunities to view Alaska's diverse and unique wildlife.
What are the best hiking trails to explore each month in Alaska?
January: Deer Mountain Trail, Ketchikan, Alaska
February: Mount Healy Overlook, Denali National Park, Alaska
March: Mount Roberts Trail, Juneau, Alaska
April: O'Malley Peak Trail, Chugach State Park, Alaska
May: Hope Point, Hope, Alaska
June: Crow Pass, Chugach State Park
July: Mount Marathon, Seward, Alaska
August: Angel Rocks Trail, Fairbanks, Alaska
September: Kesugi Ridge Trail, Denali State Park
October: Slaughter Gulch via Juneau Trail, Cooper Landing, Alaska
November: Gold Mint Trail, Palmer, Alaska
December: Winner Creek Trail, Girdwood, Alaska
To learn more check out: Take These 12 Incredible Alaska Hikes, One For Each Month Of The Year
Related Articles
Explore Alaska