5 Epic Train Rides In Wisconsin That Will Give You An Unforgettable Experience
Train rides in Wisconsin are a great way to spend an afternoon or even day. If you've yet to experience the joy of a train ride, it's about time you did. What better way is there to see the beautiful Wisconsin countryside? These 5 places offer some of the best Wisconsin train rides around.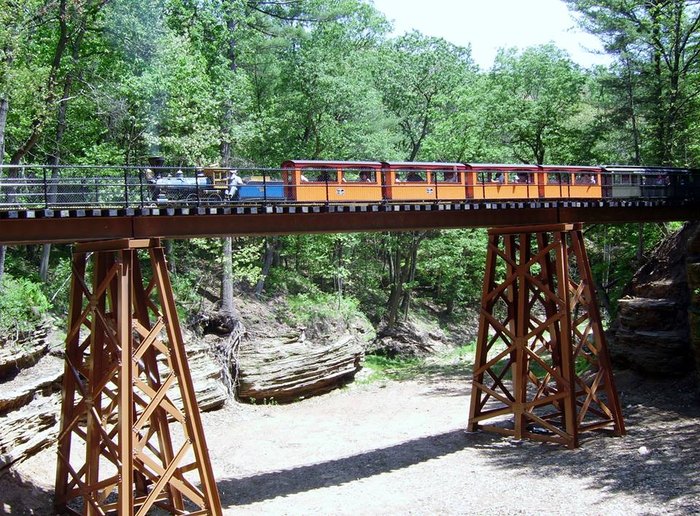 What do you think of these awesome train rides in Wisconsin? Are you boarding any of these trains this year?
Address: Riverside & Great Northern Railway, N115 County Rd N, Wisconsin Dells, WI 53965, USA
Address: Osceola & St. Croix Valley Railway, 114 Depot Rd, Osceola, WI 54020, USA
Address: Mid-Continent Railway Museum, E8948 Museum Rd, North Freedom, WI 53951, USA
Address: East Troy Railroad Museum, 2002 Church St, East Troy, WI 53120, USA
Address: Lumberjack Steam Train & Camp 5 Museum, 5068 US-8, Laona, WI 54541, USA
trains in Wisconsin
September 08, 2022
Are there any train parks in Wisconsin?
You're in luck if you're in Wisconsin and love trains. Wisconsin has a great railroad history, and in addition to amazing train rides to take, there are some great parks to visit. Take, for example, the little-known Colfax Railroad Museum in the small town of Colfax. It is a great opportunity to learn about Wisconsin's rich railroad history as well as admire old trains. The museum's collection continues to grow, but today you can find some really cool old cars and locomotives, such as the Soo Line caboose number 273 and a Port 2-6-2T steam engine. The museum also houses old railroad signs and lanterns and other great artifacts. So go check it out!
Are there any train-themed restaurants in Wisconsin?
There are some really great train-themed restaurants in Wisconsin. A stand-out in this category is Choo Choo Charlie's Shriner Diner in Kenosha. The restaurant is actually located in one of Kenosha's Metra commuter train stations. So you can drive there, or arrive by train! So fun! The diner is family-friendly and kids will love the fact that small trains deliver food right to the tables. Enjoy breakfast, lunch, or dinner here. The restaurant serves American diner food and some really yummy desserts. So bring your appetite. Choo Choo Charlie's donates half of its profits to Shriners Hospitals for Children – Chicago, so you will feel great eating here.
Address: Riverside & Great Northern Railway, N115 County Rd N, Wisconsin Dells, WI 53965, USA
Address: Osceola & St. Croix Valley Railway, 114 Depot Rd, Osceola, WI 54020, USA
Address: Mid-Continent Railway Museum, E8948 Museum Rd, North Freedom, WI 53951, USA
Address: East Troy Railroad Museum, 2002 Church St, East Troy, WI 53120, USA
Address: Lumberjack Steam Train & Camp 5 Museum, 5068 US-8, Laona, WI 54541, USA