The Hidden Beaches Road Trip That Will Show You Washington Like Never Before
Long Beach and Ocean Shores are amazing places, but they're also well-known, which often means crowded. Sometimes it's nice to enjoy some of the best beaches in Washington that are a little more secluded. This road trip, which you can take on a weekend or whenever you have the time, features some of the Evergreen State's lesser-known stretches of sand. Enjoy; you'll want to add each of these to your list of Washington beaches to visit.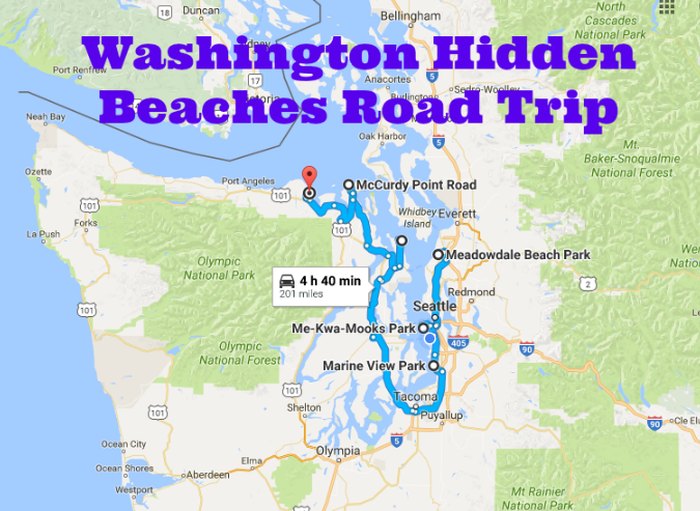 Did this inspire you to hit the road? We hope so! In fact, we hope you get to enjoy many of Washington's most beautiful beaches this summer! What are your favorite Washington beaches to visit? Tell us about them (as well as your plans if you're hoping to go a Washington getaway!) in the comments.
OnlyInYourState may earn compensation through affiliate links in this article.
Hidden Beaches in Washington
June 07, 2019
What are the prettiest beaches in Washington?
Every beach in Washington definitely has a truly unique beauty. However, our state is nationally known for the Long Beach Peninsula, one of the longest beaches in the world and often considered the best sandy beach in Washington. Also, the beaches of the Olympic Peninsula are stunning. The sea stacks and frequent fog make them look mystical and otherworldly. However, the Olympic Peninsula is pretty isolated, so if you're looking for a beautiful beach you can reach in a day, head to Golden Gardens in Seattle.
What are the best beach towns in Washington?
Ocean Shores is family-friendly, relaxing, and charming. It sits between the Olympic Peninsula and the beaches of the southern half of the state, and it has its own stretch of shoreline that looks a lot like Long Beach. Port Angeles is known for being one of Washington's best small towns, and it has a little bit of everything (including its beautiful beaches). Westport is fun for fishing and surfing, and if you want to visit a charming Cape Cod-like village, rent a cottage in Seabrook. And of course, you can never go wrong with Long Beach.
What beaches have the clearest water in Washington? 
Our ocean beach towns are often gray and foggy, so you won't find turquoise water or Caribbean sand there. If you want to see the beach with the clearest water in Washington, head inland and check out the beaches at Lake Chelan. Lake Chelan is not only one of the clearest lakes in the Pacific Northwest, but it actually has some of the clearest, cleanest water in the country. As the largest natural lake in the state of Washington, it's easy to see why this is a popular vacation destination.