6 Chairlifts In Vermont Where You Can Glide Through The Vibrant Fall Foliage
While we adore our mountain chairlifts and gondolas for the quick ascent to our favorite ski slopes, during autumn in Vermont these same transports serve a whole new purpose. Get a different take on the vibrancy of the season on a fall foliage chairlift ride. Glide through the Vermont treetops and check out the bright and bold colors from up in the sky.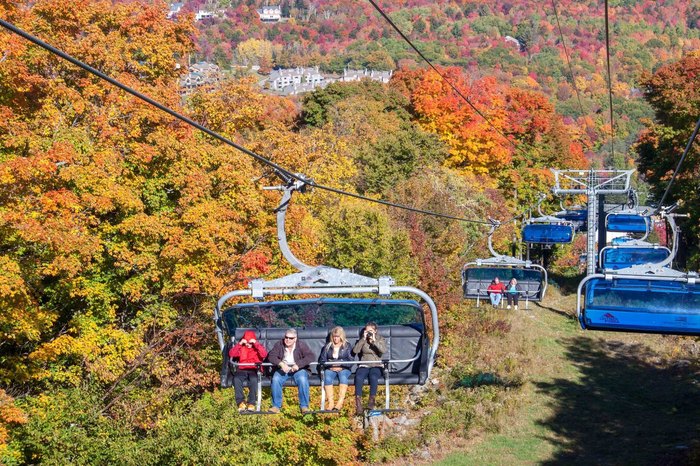 Check each individual resort's website for full details, dates, and times of the fall foliage chairlift rides, of course. If heights give you the heebie-jeebies, you can enjoy the magic of autumn closer to the ground on this scenic horseback ride in Vermont.
OnlyInYourState may earn compensation through affiliate links in this article.
Best Gondola Ride in Vermont
August 30, 2022
Can I do fall color themed gondola rides in Vermont?  
Absolutely! There are lots of amazing things to do in Vermont during the fall (more on that in a moment), and gondola rides are absolutely one of them. In fact, there's more than one option when it comes to gondola rides; one of our favorites is the southern-facing slope of Mount Bromley, where you can watch the sunset over the colors (which is an incredible thing to experience). Should you go to Killington Resort, you can do the K-1 Express gondola ride, which is one and a quarter miles long and enables you to leaf-peep like never before!  
What is there to do in Vermont during fall?  
Vermont is at its most beautiful in the fall – we promise. In fact, it's probably the #1 destination for fall color in the United States, and the leaf-peeping in Vermont is insanely good. Enjoy various traditional Vermont fall festivals, or maybe embark upon an amazing fall color road trip in Vermont. You can't beat things like pumpkin patches, corn mazes, and cider mills, and Vermont has all the above. Visiting some or all of the amazing state parks in Vermont is especially fun during the fall, when everything around you is ablaze with color. Immerse yourself in haunted houses, ghost stories, and campfires – fall in Vermont is the best. 
What is autumn in Vermont like?  
Vermont is known as the Evergreen State, but never, ever underestimate its majesty in the fall. The fall color in Vermont is unlike anywhere else in the world, and autumn is a time of pure, chilly magic. Temperatures begin dropping come mid to late September, and by mid-October the trees and foliage will be awash with blazing color. We feel like September/October is the best time to visit Vermont! Expect chilly nights and dry, pleasant days. Sweater weather is definitely a thing here! Autumn is one of the best times for camping in Vermont, and you'll find it never gets too hot or too cold.  
OnlyInYourState may earn compensation through affiliate links in this article.