Take A Canopy Tour At Bromley Mountain In Vermont To See The Fall Colors Like Never Before
Admiring the foliage in Vermont usually consists of gazing out while hiking or looking out of the car windows as you meander through the country roads. Perhaps it's the sound of the leaves crunching beneath your feet that you love. Well, why not look at the colors this year from a different perspective? From up above, perhaps? This treetop adventure is the best fall canopy tour in Vermont.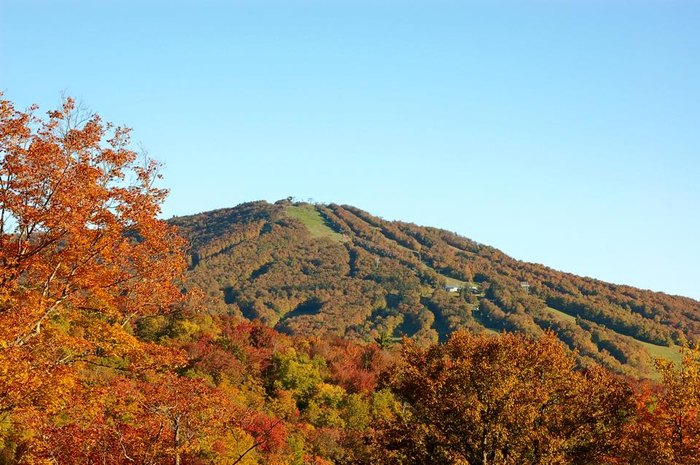 To learn more about Bromley Mountain and the best fall canopy tour in Vermont, visit their website. This isn't the only fun to be had on Bromley Mountain. Check our feature article about their amazing alpine slide!
Address: 3984 VT Route 11, Peru, VT 05152
If you're looking for more things to do in fall in Vermont, embark on this gorgeous foliage road trip.
OnlyInYourState may earn compensation through affiliate links in this article.
Best Fall Canopy Tour In Vermont
September 20, 2019
What other places in Vermont offer canopy tours or similar adventures?
For similar things to do in fall in Vermont, embark on a thrilling excursion with ArborTrek Canopy Adventures. In addition to soaring through the air on their zipline, you can weave your way through their intricate obstacle course. This family-friendly activity is certain to put a smile on your face. Journey to Jeffersonville and get ready for some adrenaline-inducing fun. For another thrilling outing, explore Okemo's Adventure Zone in Ludlow. It's so much more than just ziplines here. This place has it all: climbing walls, bouncy houses, mini golf, and trampolines. For a full day of excitement, head to Okemo Ski Resort.
What is the best way to experience fall foliage in Vermont?
Brattleboro is the best place to see fall colors in Vermont. There's so much to do and see in this idyllic Vermont town. Hike along the Wantastiquet Mountain Trail and stare at the tranquil river. During autumn, foliage reflects into the crystal clear water. The result is astonishing. This town is also home to the charming Green Mountain Orchards. Nothing screams 'fall' like apple cider donuts, and this local farm has some of the best. You're certain to enjoy the season when you take a day trip to Brattleboro.
What are the best hiking trails to take in the fall in Vermont?
Everyone loves fall hiking in Vermont. For some truly astonishing views, hike along the Wheeler Mountain Trail in Sutton. This 2.5-mile hike has sweeping foliage views. When you reach the top, you'll be blown away. If you're looking for a short hike, venture to Owl's Head in Groton. The trail is steep, but the end view is definitely worth it. A brilliant field of autumn colors will greet you.