Posted in USA
May 31, 2023
These Abandoned Water Parks Are An Eerie Reminder Of Summers Past
In a world where the times are always rapidly changing and responsibility seems never ending, we often daydream about our favorite childhood experiences, like going to a water park. While we may have loved spending the day at our favorite swimming holes and lakes, there was nothing ever quite like taking a trip to your local water park to cool off and get your adrenaline going. Whether you enjoyed wading in the lazy rivers or lived for the thrilling water slides that would get your blood pumping, these places provided their visitors with fun days in the sun. Unfortunately, not all that we loved in the past can withstand the test of time. Many of our beloved childhood water parks failed and are nothing but testaments to economic conditions, poor planning or location, or some other circumstance that contributed to their demise. Several such water parks stand – or stood for several years – abandoned and decaying.
No longer the adventurous paradises that they once were, these images of abandoned water parks in the USA serve as an eerie reminder of summers past, but more images from twisted nightmares than childhood dreams.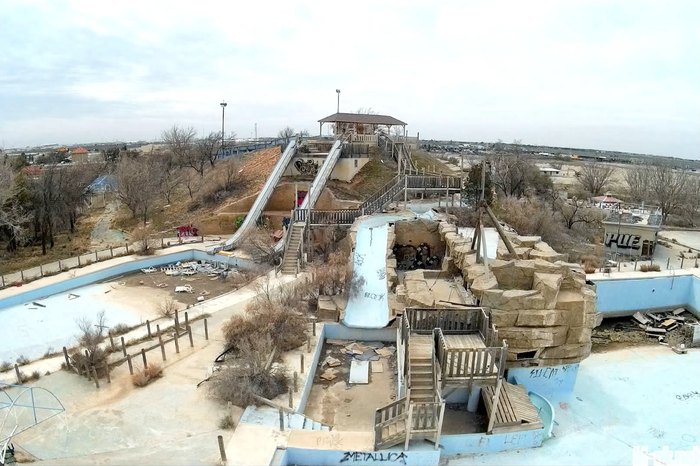 As water parks open and close across the country, many, like those above, sit deserted for many years before being demolished or redeveloped. Other abandoned water parks simply rot away, left to nature's whims. Regardless, we think the sight of an abandoned water park, whether in haunting drone video or out of a car window on a desert highway, evokes feelings of growing up and an inability to regain all that we may have once cherished as children. That's why these images can be so haunting.
OnlyInYourState may earn compensation through affiliate links in this article.
Abandoned Water Parks In The USA
June 04, 2023
Where can I learn more about these abandoned water parks in the USA?
You can learn more about these abandoned water parks in the USA from the more detailed articles Only In Your State has published about them. You'll find more information about several of the water parks listed above in the following articles: