These 8 Breathtaking Waterfalls Are Hiding In Dallas-Fort Worth
Dallas-Fort Worth may not be known for its spectacular waterfalls, but we do have some that are worth visiting. A few are even some of the best-kept secrets in Texas! Here are some breathtaking waterfalls near Dallas, some natural and others man-made – but all are free to visit.
If you arrived here by looking up something like waterfalls near Dallas, you're sure to find at least a few, considering how enormous Texas is! Check these amazing cascades out and let us know which ones are your favorites: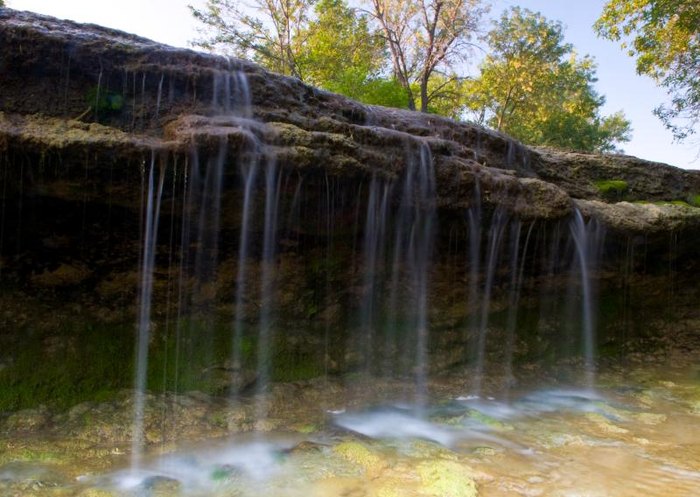 Do you know of any cool waterfalls hiding in the Metroplex? Which waterfalls near Dallas are your favorite little oases? Let us know in the comments!
OnlyInYourState may earn compensation through affiliate links in this article. As an Amazon Associate, we earn from qualifying purchases.
More to Explore
Waterfalls Near Dallas
What are some of the best waterfall hikes in Dallas?  
Dallas is an awesome city with lots of things to see and do, no matter what your interests may be. Explore the big cities if you like, or maybe head out into the natural world to see what kind of amazing things lie outside city limits. There happens to be a number of waterfalls in Dallas (or near Dallas), and we've got several favorites. Some are natural, though most are located within Dallas city parks or in other publicly accessible places. Turner Falls is a truly amazing waterfall hike just 130 miles from Dallas, as it leads to a stunning 77-foot-tall cascade that drops into a perfectly emerald pool below. Another amazing relatively-near-Dallas hike with a waterfall is the short-and-sweet trek into Hamilton Preserve. Here, you can behold the wonder of the Hamilton Pool, which includes a breathtaking waterfall and some of the straight-up most beautiful scenery in Texas.  
Are there many hiking trails with waterfalls near Dallas?  
Dallas might be a bustling city center full of people and traffic, but it's got a fair share of gorgeous waterfalls to check out if you get the chance. Hike to incredible Dallas-area waterfalls like the one you'll find in Prairie Creek Park. This is one of the oldest parks in the Richardson area and sprawls almost 40 acres, with a delightful waterfall hidden within. The creek is gorgeous, green, and chilly, and when it's especially swollen, one might meet many different small waterfalls along the way. The Marion-Sansom Park is a Dallas-area Park to die for with a gorgeous hike that'll make you feel like a million miles away from it all. It features a waterfall and is great for families with kids.  
What's the tallest waterfall in Texas?  
There are several amazing waterfalls in Texas, including all of the ones we've mentioned thus far and then some. The tallest waterfall the Lone Star state has to offer, though, is Capote Falls. They're an incredible 175 feet high and are sure to wow even the most experienced chaser of waterfalls. The falls flow consistently year-round, despite rainfall amounts, and can always be counted on for an amazing time. It is, however, located on private property, so one must obtain a permit before exploring.  
Related Articles