7 Small Towns In Tennessee Brimming With Christmas Cheer
Tennessee is known for its friendly faces and beautiful places, but all of that seems to amplify during the Christmas season. There's just nothing like spending the holidays in Tennessee, and what's more Tennessean than a small, charming, Southern town? We've compiled a list of some of the best Christmas towns in Tennessee where you and your loved ones can visit and enjoy (and participate in) all of the holiday cheer you can handle.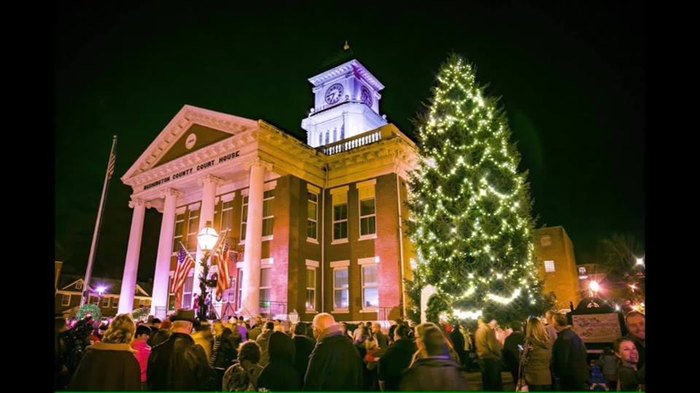 What are your favorite Christmas towns in Tennessee? Let us know! And as if you needed it, here are 10 more reasons to love Christmas in Tennessee.
OnlyInYourState may earn compensation through affiliate links in this article.
Best Christmas Towns in Tennessee
October 28, 2022
What are some of the best Christmas towns in Tennessee?  
Christmas in Tennessee is a special time, and there are lots of little towns in TN that love going all out for the holidays. These Christmas villages are seriously the best places to spend Christmas in Tennessee, and we think you'll love them as much as we do. Some of our favorite Christmas towns in Tennessee include the adorable town of Franklin, where you can check out all sorts of delightful holiday fun at the Franklin Theatre, and the neighborhoods of Brentwood are seriously one of the best places to be in Tennessee at Christmastime. Memphis and Knoxville may not be small towns, but they do make for amazing holiday getaways with millions of lights, festivals, and more.  
What is Christmas in Tennessee like?  
Christmas in Tennessee is such a magical time of year. There are lots of things to do at Christmas in Tennessee like ice skating, shopping galore, and so much more. You can do all sorts of fun, family-friendly things, like our Tennessee Christmas lights road trip, which is simply the best. Everywhere you turn, you'll meet new friends. The folks are warm and friendly, and no doubt there are plenty of Christmas festivals in TN to attend. Of course, you can't miss a trip to Pigeon Forge to visit the awesome Christmas Place store, which is open year-round but is especially magical during the holidays (for obvious reasons). The lights at Opryland are spectacular, and you'll love sipping cocoa while doing a fun holiday lights drive-thru in TN as well.  
What is winter in Tennessee like?  
Winter in Tennessee tends to be pretty mild, with daytime temperatures averaging around 50 degrees. At night, temperatures can dip into the freezing range, though they're rarely ever below zero. The eastern part of the state is more mountainous than the rest; as a result, this is where you're more likely to encounter snow in Tennessee than anywhere else. Enjoy the beautiful outdoors on a delightful winter hike in TN or maybe check out some of the best Christmas villages in TN while you're at it. It's a totally sparkly, lit-up, magical time of year – come experience it!