It's Impossible To Forget The Year South Dakota Saw Its Single Largest Snowfall Ever
The assassination of President John F. Kennedy. The fall of the Berlin Wall. The moon landing. There are some historic events that are etched into our minds and never quite go away, which, for South Dakotans, includes one massive snowfall that was unlike anything our generation had ever experienced. South Dakota's largest snowfall went down in the books as something we'd be happy to never experience again.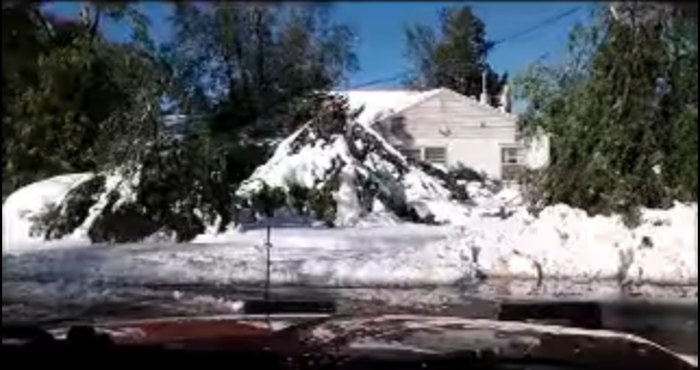 While huge snowstorms are nothing new to South Dakota, weirdly early and nearly unexpected ones such as the 2013 blizzard are both rare and devastating, making for a storm that no one can ever forget. To get an even better look at the post-storm cleanup, watch this video by YouTuber Fabiana Meredith:
If you remember the blizzard of 2013, you may also remember A Terrifying, Deadly Storm Struck South Dakota In 1972… And No One Saw It Coming.
What remarkable storms throughout history do you remember?
OnlyInYourState may earn compensation through affiliate links in this article.
South Dakota's Largest Snowfall
February 03, 2022
What is winter in South Dakota like?  
To put it lightly? Freezing! South Dakota is beautiful, even in winter, but it sure does get chilly 'round these parts during the coldest months of the year. The average high temperature during the day in winter is around 32 degrees. Temperatures that plunge below zero are not uncommon! Lows are frequently found to be below zero. Bundle up! It snows quite a bit in South Dakota, too, with annual averages totaling about 39 inches (the national average is about 28 inches). Of course, none of this is to say that South Dakota winters are "miserable" or boring by any means! The state really comes alive in a different way when it's cold out; there is plenty to do, including winter hikes, ice fishing, and even more than 1,500 miles of epic snowmobiling trails all waiting to be conquered.  
Which have been the coldest winters in South Dakota thus far?  
South Dakota has certainly seen some cold times. The lowest recorded temperature in South Dakota history – at least so far – was an astounding –58 degrees in February of 1936. Thankfully, that kind of extreme dip is uncommon, though unfortunately not unheard of. 1917 was the coldest year in South Dakota history all around, though, with an average temperature – all year – of just 41.8 degrees. Yikes! We enjoy the cold, but goodness! Then, as recently as 1970, temperatures dipped down to –36 degrees. If you ask us, once you hit zero degrees, it all feels the same: so cold it burns! You wouldn't want to go outside and breath air that frigid in, for sure. To get a feel for some of South Dakota's roughest winters thanks to some epic storms, check this article out; it's a reminder of those incredibly gnarly winter storms our state will never truly forget.