Don't Drive On This Haunted Road In South Dakota Or You May Regret It
You know a road must be creepy when the locals have renamed it "Spook Road." This rural road outside of Brandon, South Dakota has a notorious past that earned it that name. Other than the many urban legends and hauntings that have taken place on this road, it can be considered just plain spooky to drive down.
In the summer, many people think of it more as a scenic drive, and it certainly is…during the day. At night in the fall and winter months, the tunnel of trees and winding road are a bit more unnerving when you can't see what's around the bend. Urban legends surrounding this road include a theory that if you drive one way on it, you will cross five bridges, but on the way back only four. Legend has it that people have been hung from some of these bridges. It isn't unheard of to feel like you're being watched when crossing them — you may even see eyes peering at you from the dark! Here's more on what makes Spook Road in South Dakota so terribly haunted.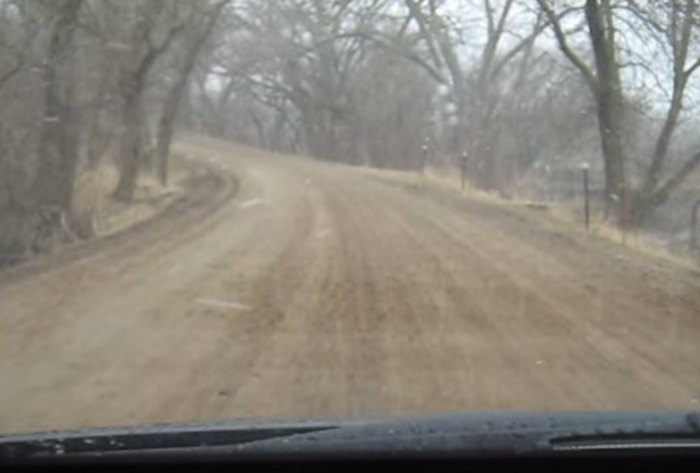 You can watch a short video about Spook Road in South Dakota for more details. You can imagine what this road must be like at night, and why it has gained its fame. Not many people are brave enough to drive here after dusk.
Have you had any experiences on Spook Road in South Dakota? This is one of many South Dakota urban legends; you can read about more here.
OnlyInYourState may earn compensation through affiliate links in this article. As an Amazon Associate, we earn from qualifying purchases.
More to Explore
Spook Road in South Dakota
What are the most haunted places in South Dakota?
When most people think about South Dakota, they likely dream up imagines of the beautiful landscape, dense forests, and likely the iconic Mount Rushmore. Yet there's another side to South Dakota and it's incredibly haunted. In fact, we've put together a road trip that will take you to the most haunted places in South Dakota. Some of these locations include Mount Marty College in Yankton, Easton Castle in Aberdeen, the Bullock Hotel in Deadwood, the Historic Homestake Opera House in Lead, Hotel Alex Johnson in Rapid City, and Wounded Knee in Oglala Lakota County. Have you visited any of these haunted places in South Dakota?
Does South Dakota have any haunted hotels?
If you're planning to stay the night in South Dakota and are curious about the possibility of spotting a ghost, you'll have several options to choose from. One of the most famous, as mentioned above, is the Hotel Alex Johnson in Rapid City. It's here that you may encounter the Lady in White, a young woman who fell to her death out of the window of room 812 in the 1970s. Allegedly, this ghost continues to roam the halls of the eighth floor.
Does South Dakota have any urban legends?
If you venture to the Orpheum Theatre in Sioux Falls, you'll likely hear about the urban legend of Larry. Long ago, a man by this name danced with a woman whose husband was overseas fighting in the war. Upon his return, the husband was so mad that he apparently killed Larry. Today, Larry's ghost is reported to haunt the Orpheum Theatre, wandering around and whistling the familiar tune "Twinkle, Twinkle Little Star." Interestingly, Larry's ghost is considered to be a good luck charm on any show's opening night. Learn about some of South Dakota's other famous urban legends.
Related Articles
Explore South Dakota
Featured Addresses