This Haunted Road Trip Will Lead You To The Scariest Places In South Dakota
You don't need to believe in ghosts to love a good haunted road trip. You might be interested in the history of these places, even if you don't think for a minute that you'll stumble upon unsettled spirits. Hop in the car and go for a ride – you're going to love this trip that features the most haunted places in South Dakota.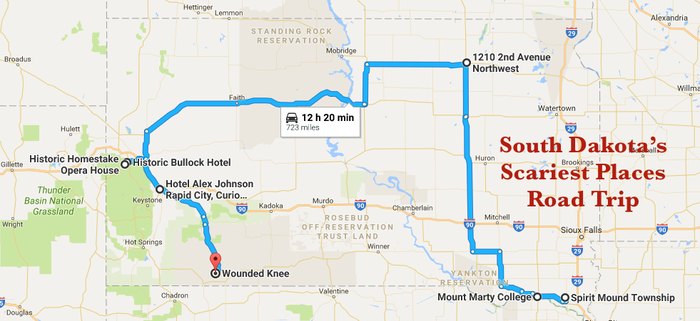 Have you heard any of the South Dakota ghost stories surrounding these places? What do you think? For even more allegedly haunted spots around SoDak, click on Driving Down This Haunted South Dakota Road May Give You Nightmares.
OnlyInYourState may earn compensation through affiliate links in this article. As an Amazon Associate, we earn from qualifying purchases.
More to Explore
Most Haunted Places In South Dakota
What is the most famous ghost story from South Dakota? 
While South Dakota has a number of legendary ghost stories, the most disturbing of all may just be the legend of Sica Hollow. Located near Sisseton, Sica Hollow State Park has always been a popular spot in terms of outdoor recreation, but what you cannot see along the covered trails is what has people talking. Called Sica (or "evil") by the Dakota Sioux Native Americans, Sica Hollow is the alleged home of Bigfoot, as several South Dakotans went missing in the woods in the 1970s after a half man/half beast was spotted roaming the woods. Does this make Sica Hollow one of the most iconic of South Dakota hauntings or is it merely a legend? You tell us.
What is the most haunted town in South Dakota? 
The most haunted town in the Mount Rushmore State is hands down Deadwood, which is the location of some of the most popular South Dakota ghost stories. What makes it so haunted? It is thanks to the ghosts of the town's first sheriff (who can still be seen roaming around the Historic Bullock Hotel), W.E. Adams (the original owner of the Historic Adams House who may have died, but never really left), and all of the weird sights/sounds/smells on the 3rd floor of the Fairmont Hotel and Casino.
What is the creepiest abandoned place in South Dakota? 
While there are countless abandoned places in South Dakota, the creepiest of all is Spokane, which is made all the more eerie as it is - despite being abandoned in the 1940s - perfectly preserved. You can learn a lot more about Spokane by reading There's A Hike In South Dakota That Leads You Straight To An Abandoned Village.
Related Articles