The Ultimate Terrifying South Dakota Road Trip Is Right Here – And You'll Want To Do It
When you have a state that is as historic as South Dakota, you are almost guaranteed to find allegedly haunted spots around every corner. If you have a love of the eerie, and find haunted houses and ghost stories to be your cup of tea, buckle up and take this terrifying road trip to a few of the creepiest places in South Dakota.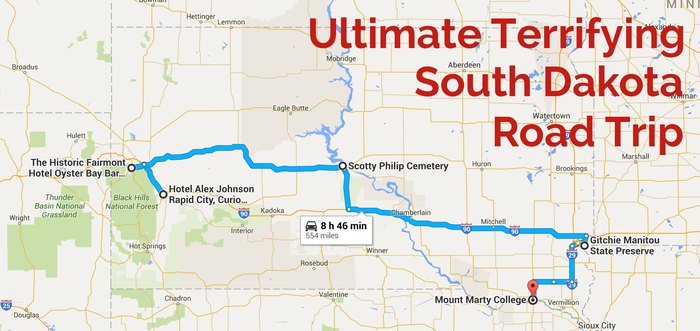 Quick Hits: Creepiest Places in South Dakota
By Annie Sandmeier
What is the most haunted place in South Dakota? As mentioned in the introduction, a state with a history like South Dakota is bound to have plenty of alleged haunts, so narrowing it down to just one is a little tricky. If we had to pick from the most terrifying places in South Dakota, however, it would probably be the aforementioned Hotel Alex Johnson. Why? With the number of credible-sounding stories to come from countless guests, it is hard to discredit that people were just imagining the window opening on its own, sounds of phantom music, and the words "Help me" appearing on the bathroom mirror.
What is the creepiest abandoned place in South Dakota? While it is outside and was never technically occupied, the creepiest abandoned place in South Dakota is Devil's Gulch. Though it is famous for the legend surrounding Jesse James (who is said to have leapt the 18-foot gulch with his horse), Devil's Gulch has a much darker side, as it is said a young couple was murdered there after a botched kidnapping. If you listen closely, many say you can still hear the moans and screams of the couple, as well as see their shadows.
What is the most haunted town in South Dakota? This one is easy: Deadwood. Famous for its Wild West past, Deadwood is home to a number of historic attractions and – in turn – hauntings. This includes the previously mentioned Bullock Hotel, Fairmont Hotel and Casino (home to many spirits from the building's former life as a brothel), and Historic Adams House (which is said to still house the spirit of original owner W.E. Adams).
There are many terrifying places in South Dakota, so for the souls that are brave enough to take on this road trip, don't forget to let us know how it goes! What haunted places in South Dakota would you add to this road trip?
OnlyInYourState may earn compensation through affiliate links in this article.
Address: South Dakota, USA