7 Of The Greatest Mountain Hiking Trails In South Carolina For Beginners
Taking the plunge to start hiking, or know someone who is? For that person in your life (even if it's you) who just doesn't enjoy the overwhelming thought of hiking a trail that becomes too difficult halfway through the trek, the following list is ideal for mountain hiking adventures for beginner hikers. These seven hiking trails for beginners in SC are so nice even experienced hikers will enjoy the trek, too!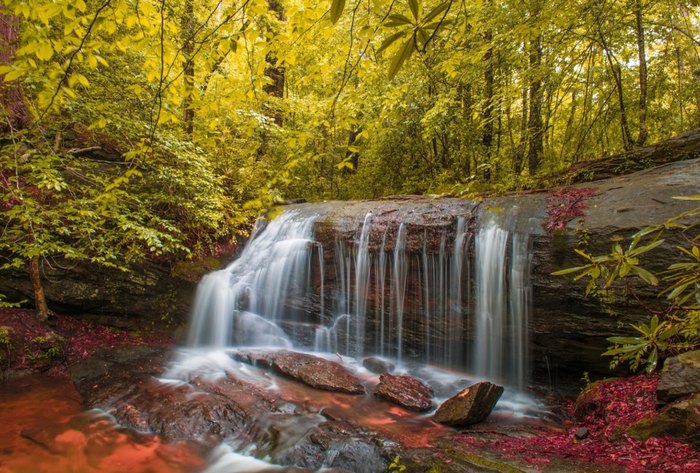 Do you have a person in your life who doesn't enjoy the thought of hiking? Think you can get them on one of these trails? We'd love to know if you've already tried …
Love taking the kids hiking but just aren't sure about kid-friendly trails in South Carolina? Need hiking trails for beginners – as in very beginners? Check out our favorite kid-friendly likes in South Carolina for some inspiration!
OnlyInYourState may earn compensation through affiliate links in this article. As an Amazon Associate, we earn from qualifying purchases.
More to Explore
Hiking Trails For Beginners
What are some of the best hiking trails for beginners in South Carolina? 
South Carolina is home to thousands of miles of amazing hiking trails just waiting to be explored, and many of those miles are nice, easy, and perfect for beginners. Some of our favorite easy hikes for beginners in South Carolina are:  
Issaqueena Falls – The hike to this stunning waterfall is just 0.3 miles long – and the payoff is amazing!

 

Sullivan's Island Nature Trail – This trail is just over a half-mile long and features nice, soft sand to sink your toes into. 

 
Lake Placid Loop at Paris Mountain State Park – Another top-notch, easy waterfall hike in SC that's sure to please at just 0.8 miles in length. 

 
Learn more about all these easy SC hiking trails and more!   
What are some of the easiest trails in South Carolina? 
Of course, the list of easy hikes in South Carolina doesn't end with just the above. There are dozens – if not more – of other easy hikes in SC worth doing. Some of our other favorite easy trails in South Carolina are:  
Yellow Branch Falls – This one's a little longer, at three and a half miles long, but the waterfall is amazing! 

 
Lake Haigler Loop – 3.3 miles of wonderful water views, bird watching, wildlife, and more. 

 

The Doodle Trail – This one's paved and lengthy, making it ideal for bikes and those who enjoy long hikes.

 
Learn more about each of these awesome, easy hikes in SC and more.   
What are some other amazing SC hiking trails to add to my bucket list? 
But wait, there's more! Other awesome SC hiking trails that are sure to thrill you are gems like:  
Table Rock Trail – This one's a challenge, but the rewards – and the incredible views – are worth it. 

 

The Palmetto Peak to Passage Trail – This one's perfect during the spring and a favorite among mountain bikers. 

 

The Peachtree Rock Heritage Preserve – An interesting hike for anyone intrigued by the unique geology of the region! 

 
Learn more about some of the best hiking trails in South Carolina that belong on your bucket list.  
Related Articles
Explore South Carolina