10 Unforgettable Road Trips To Take In Pennsylvania Before You Die
Road trip! Arguably the two sweetest words in the English language, right? Those of us who live in Pennsylvania know how lucky we are to have so many amazing destinations to visit within our borders. These are 10 of the best road trips in Pennsylvania, already mapped out for you. Just make sure to call ahead before you hit the road to ensure each destination is open.
We've got so many must-visit destinations in Pennsylvania, and these unforgettable road trips take us to just a few of those places. Before you set off, be sure to check off everything you need to take with you by taking a peek at this Road Trip Essentials Packing List & Guide.
Each road trip includes a link to the map, which you can quickly and easily customize to your needs and interests.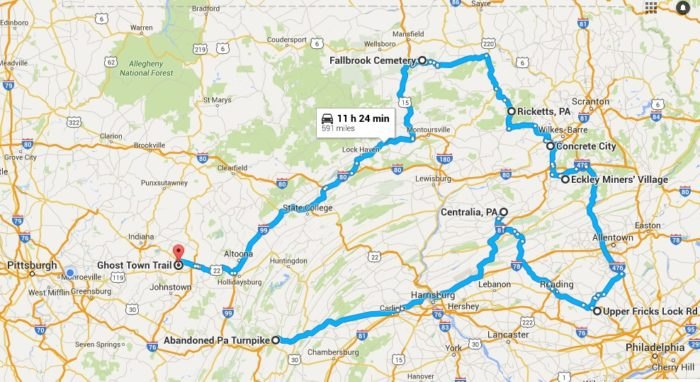 Which of these Pennsylvania road trips are your favorites? Let us know in the comments! Love waterfalls? Then you might want to day trip to some of Pennsylvania's most majestic waterfalls.
OnlyInYourState may earn compensation through affiliate links in this article.
Address: Pennsylvania, USA
Exploring Pennsylvania
July 15, 2021
What are the top must-visit attractions in Pennsylvania?
No matter what your interests are, there are some must-visit attractions in Pennsylvania that you really don't want to miss out on.
Pine Creek Gorge, better known as the Grand Canyon of Pennsylvania, is one of those must-visit attractions. You can view it from either Colton Point State Park or Leonard Harrison State Park.
Take a hammer along with you to Ringing Rocks Park in Bucks County. You'll have a short hike to the rocks, so definitely wear comfortable shoes, too. Gently tap the rocks with the hammer, and they'll make music.
Plan a visit to Bilger's Rocks, too, which is home to boulders that date back more than 300 million years.

What are the best places to visit in Pennsylvania for nature lovers?
Nature lovers have no shortage of places to visit in Pennsylvania.
Love waterfalls? Then there's really only one place to go, and that's Ricketts Glen State Park. Follow Falls Trail to see all 21 of the park's named waterfalls.
If you're in search of quiet among nature, plan a visit to Hammersley Wild Area, the most remote spot in Pennsylvania. Explore one of its hiking trails in an area where no motorized vehicles are allowed and cell service is spotty at best.
Stargazers will definitely want to spend an evening at Cherry Springs State Park in Coudersport, which boasts the darkest skies on the Eastern Seaboard.

What are some of the most family-friendly things to do in Pennsylvania?
Finding things to do in Pennsylvania is easy; deciding what to do first is the hard part.
Learn more about a rare natural phenomenon when you visit Coudersport Ice Mine, which freezes in the summer and melts in the winter.
Hiking is probably one of the best things to do in Pennsylvania.
If you want a kid-friendly hike, embark on the one-mile Chickies Rock Overlook Trail in Lancaster.