In 1977, Pittsburgh Plunged Into An Arctic Freeze That Makes This Year's Winter Look Downright Mild
Winter in Pittsburgh is generally *not* everyone's cup of tea, as it ushers in below freezing temperatures, school delays and closings, and what can seem like never-ending icy conditions. The temps can get so low, in fact, that when we see the high 30s and low 40s, it feels kind of like a heat wave! But as cold as most winters can seem, they certainly don't hold a candle to the coldest winter in Pittsburgh.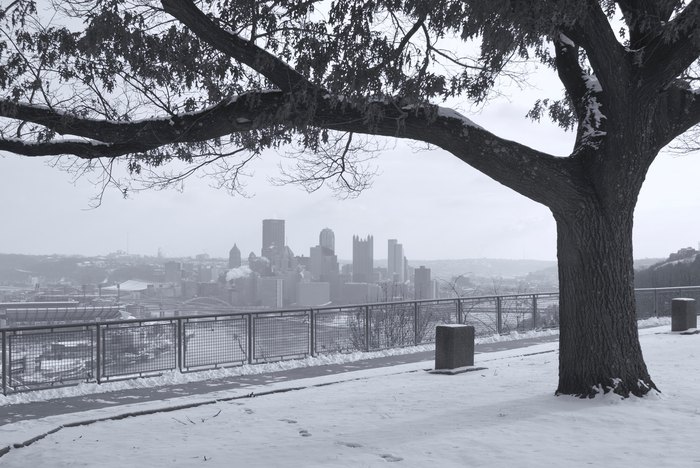 Ready for a blast from the past? Click below to hear Don Cannon and Joe DeNardo talk about the frigid temps in January of 1977. DeNardo warns of temperatures dipping to minus 60 degrees Fahrenheit with the wind chill.
Do you remember the coldest winter in Pittsburgh? Share your memories below!
Let's face it: winter in Pittsburgh can be rough. Here are some of the worst winter storms in Pittsburgh, including the infamous storm of 1993. Who remembers the Blizzard of '93? Just about everything – from the parkway to the malls – shut down as 25.3 inches of snow fell between March 12 and 14 (Yes – March. Here in Pittsburgh, we don't put away our snow gear until *at least* April!). The Blizzard of '93 also set the record for the most amount of snow that fell at one time with 23.6 inches on March 13. This incredible blizzard in Pennsylvania and surrounding states was one for the books.
OnlyInYourState may earn compensation through affiliate links in this article.
Winter in Pittsburgh
November 26, 2022
What are some fun things to do during the winter in Pittsburgh?
Pittsburgh is pretty much an outdoor enthusiast's paradise all year around. However, the winter landscape, especially after a fresh snowfall, promises an extra bit of excitement, magic, and a ton of fun. Some of our favorite things to do during the winter in Pittsburgh (and Pennsylvania) include hiking, ice skating, snow tubing, and sledding. In terms of hiking, some of the best winter hikes in Pittsburgh include the trails at McConnells Mill State Park, Keystone State Park, Moraine State Park, and Laurel Hill State Park. If you're looking to experience a real-life winter wonderland near Pittsburgh, head to Forbes State Forest. Snowmobiling, cross-country skiing, and hiking are all popular winter outdoor activities near Pittsburgh. The forest, in fact, features more than 250 miles of hiking trails, so you're sure to find one that appeals to you. If you're up for a multi-day trek, you can even follow the Laurel Highlands Trail, which spans from Ohiopyle to Johnstown!
OnlyInYourState may earn compensation through affiliate links in this article.