Here Are The 8 Best Places To Go Sled Riding In Pennsylvania This Winter
Friends, it's obvious – the snow is finally here. With all this fluffy white stuff coating our beautiful state and with that familiar chill in the air right about now, you might be thinking about dusting off your sled and hitting the hills. We thought we'd provide you with a list of some of the best places to go sledding in Pennsylvania; some are places where you can go tubing, too, while others are simply public and state parks. See if your favorite sledding spot made the list, of maybe find a new one!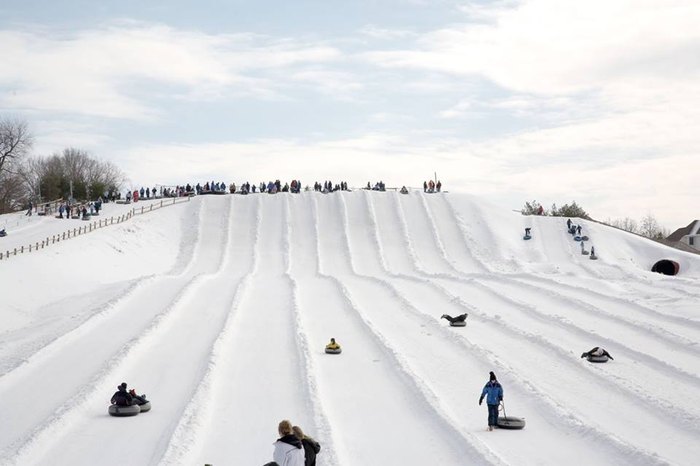 What do you think? Any places you would add? What are your favorite spots to go sledding in Pennsylvania? Tell us your picks in the comments!
Thanks for reading, and be careful out there this weekend. For more wintery wonders in our beautiful state, check out this list of nine places you've got to go during winter.
OnlyInYourState may earn compensation through affiliate links in this article.
More to Explore
Sledding in Pennsylvania
Where can I find the best places to go sledding in Pennsylvania?  
Pennsylvania is one of those states where winter is seriously one of THE most fun times; part of the reason for this is that it's an awesome place to grab a sled and go careening down a snowy hill. This awesome childhood winter pastime is easy in this state; luckily for us, we're surrounded by hills and embankments that are great for sledding. We do have some favorite locations just for this occasion, though, like the epic sledding hill at Codorus State Park. How many times do you think you can go in an hour? If you head to Frick Park, located in Pittsburgh, you can find Blue Slide Hill, which is a local favorite. Then, in the Philly area, you might want to visit Fairmount Park for some of THE best sledding there is. Are you a lover of all things winter? Well, then, you might want to check out this article of all the things you need to add to your Pennsylvania winter bucket list ASAP.  
Are there any ski resorts in Pennsylvania?  
There most certainly are! With lots of snow and hills comes lots of resorts, and we love it. Some of our favorite ski resorts in Pennsylvania include Liberty Mountain Ski Resort, in Fairfield, which is great for families with toddlers and small children. In Boswell, head to the Laurel Mountain Ski Resort, and while in Lehigh Valley, you can't miss the amazing Bear Creek Mountain Resort. Oh, and we can't end this without a nod toward our friends at Spring Mountain Adventures, in – you guessed it – Spring Mount. Each of these places offers up memorable experiences you nor your family and/or friends will forget. One might even argue that winter is the best time to get outdoors and enjoy Pennsylvania.  
Related Articles
Explore Pennsylvania