This Road Trip To Pennsylvania's Most Majestic Castles Is Like Something From A Fairytale
Once upon a time… there was a magical road trip that lead to perhaps Pennsylvania's best castles, spectacular structures that house spas, museums, and memories of the past. This isn't a fairy tale — it's one of the best road trips in Pennsylvania! Gas up your car and pack your bags because it's time to hit the road on this fairy tale road trip that will lead you to some of Pennsylvania's most stunning castles.
Click here to customize the directions for your road trip.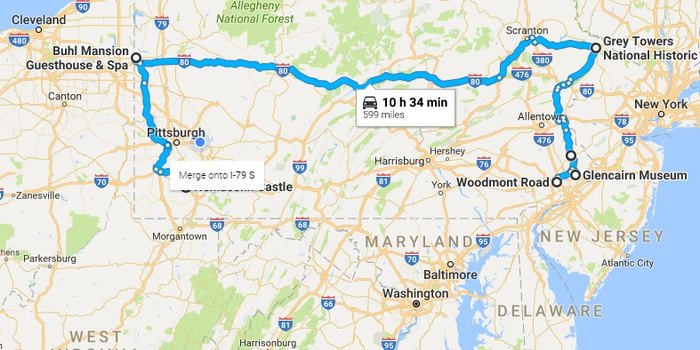 Hit the road on this unforgettable journey that's one of the best road trips in Pennsylvania — and an experience that's sure to make you feel like royalty! For more road trip adventures in the Keystone State, be sure to add these 10 amazing road trips to your Pennsylvania bucket list.
OnlyInYourState may earn compensation through affiliate links in this article.
Address: 1622 Spring Mill Rd., Gladwyne, PA. 19035
Address: 1001 Cathedral Road, Bryn Athyn, PA 19009
Address: 84 S Pine Street, Doylestown, PA 18901
Address: 525 E Court Street, Doylestown, PA 18901
Address: 151 Grey Towers Drive, Milford, PA 18337
Address: 422 E State Street, Sharon, PA 16146
Address: 136 Front Street, Brownsville, PA 15417
Best Road Trips in Pennsylvania
June 29, 2021
What are some of the best road trips to take in Pennsylvania?
If you enjoyed road tripping to the best castles in Pennsylvania, you'll definitely want to keep the magic going and embark on this amazing waterfall road trip in the Keystone State. While on this six-hour adventure, you'll get to visit some wondrous waterfalls such as Ganoga Falls at Ricketts Glen State Park, Bowman Hollow Falls in Forkston, and Bushkill Falls, which are lovingly referred to as the Niagara of Pennsylvania. If you're in the mood for something a bit less magical and more, shall we say, macabre, then you'll definitely want to check out this spooky Pennsylvania road trip we devised. The trip stops at notoriously haunted places in Pennsylvania such as Hill View Manor in New Castle, the Mishler Theatre in Altoona, Van Sant Covered Bridge in New Hope, and Eastern State Penitentiary in Philadelphia.
Does Pennsylvania have many magical places?
Pennsylvania is a charming, fairy tale state, full of some of the most winsome and wonderful places in the country! The town of New Hope, for example, is straight from the pages of a fairy tale, complete with enchanting, old architecture, a babbling brook, old-fashioned Main Street, picturesque parks, and its own charming railroad. For an overnight experience that's absolutely magical, Bear Run Campground near Pittsburgh is as good as it gets. The sprawling campground sits just three miles from Moraine State Park and four miles from McConnells Mill State Park, and features cozy little cabins, beguiling lakes and woods, and its own old-fashioned general store that's simply delightful!
What are some unique castles in Pennsylvania?
Looking to mix up your Pennsylvania castle experience? The Carnegie Library of Homestead hails back to 1898, and is a spectacular work of Gothic-inspired architecture. Today, the historic landmark houses a library, an athletic club, and a music hall, for a truly unique experience you can only have in Pennsylvania! Located on the grounds of Stokesay Castle, you'll find The Knight's Pub, an acclaimed restaurant in the most unique setting. Meanwhile, up in the Pocono Mountains, Hilltop Castle is 30,000 square feet of luxury, and serves as the most magical, extraordinary overnight destination in Pennsylvania! That's right -- this castle Airbnb can be all yours for the night! The castle boasts 26 bedrooms, 26 bathrooms, a mini golf course, billiards tables, a bowling alley, arcade games, a full-size basketball court, a restaurant-sized kitchen, and even comes with a private chef and a housekeeper, if you choose.