The Sinister Story Behind This Popular Oregon Lake Will Give You Chills
There are a large number of locations that are reportedly haunted in Oregon. In fact, some of America's creepiest haunts can be found in this state, particularly in Southern Oregon, Portland, and on the Oregon Coast. However, not many people would think to include the ever-beautiful Crater Lake on this list. Located in Klamath County, within the Cascade Range of Southwest Oregon, Crater Lake is steeped in mysterious legends. Despite its serene surface, the lake has a dark history filled with strange phenomena and chilling stories.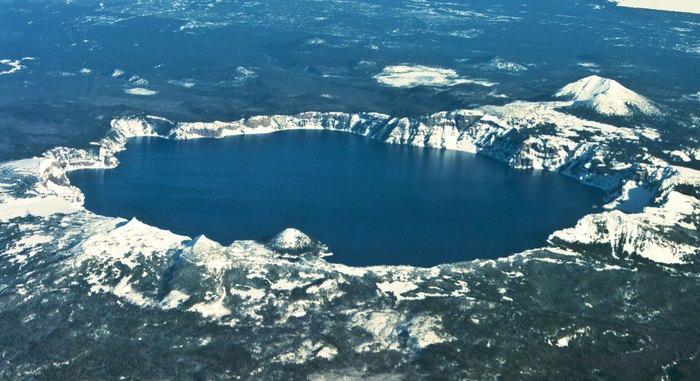 Crater Lake is open all year round. Visitors can drive around the lake and stop at numerous breathtaking vistas, or take the guided trolley tour around the rim. There's also a boat tour to Wizard Island. Just make sure to watch out for the lake monsters!
Have you paid a visit to the majestic Crater Lake? Did you witness any strange phenomena? Share your experiences in the comments.
OnlyInYourState may earn compensation through affiliate links in this article. As an Amazon Associate, we earn from qualifying purchases.
More to Explore
Amazing Myths And Legends In Oregon
What is the most haunted town in Oregon?
The most haunted town in Oregon is Astoria.
The city of Astoria on the Oregon coast is considered to be the most haunted town in the state. It has over 200 years of history and was one of the places where many men were "shanghaied" to work as slaves on ships. The Liberty Theatre is said to be haunted by a ghost named Paul which many cast and crew members claim to have seen. It is said that the old firehouse built in 1856 is haunted by a sleepwalking fireman.

Learn more about the most haunted town in Oregon.
What is the Legend of Silent Rock?
The Legend of Silent Rock is as follows:
Silent Rock at Mt. Hood is located next to Highway 26 and has been the site of many fatal automobile accidents. Locals turn off their radios and remain silent when they pass to not incur its supposed curse. It is said that if they don't they will have vehicle problems or even a horrible accident. Theories about how this started include a crash in the 1970s where a semi-truck crashed into several cars, causing them to careen down the mountain. 
Discover more about the Legend of Silent Rock. 
What is the Legend of The Bandage Man?
The Legend of the Bandage Man is as follows:
A young couple in the 1960s were parked near Cannon Beach, kissing, and a ghastly figure of a man covered in bandages hopped into the back and began to rock the truck back and forth and pounding on the cab. They drove off with him still beating on the truck and then he suddenly vanished. Many people have since claimed to have seen The Bandage Man in this area on Highway 101 and a short road known as "Bandage Man Road" near Cannon Beach.
Find out more about the Legend of Bandage Man. 
Related Articles
Featured Addresses

Crater Lake, Oregon 97604, USA