The Hidden Beaches Road Trip That Will Show You Oregon Like Never Before
From top to bottom, the Oregon Coast is filled to the brim with amazing places worthy of exploration. There's so much to do and see in this stunning state, including plenty of hidden gem beaches in Oregon that'll blow you away. Stumbling upon these secret Oregon beaches is a downright magical experience – and when you put them all together, they make for an unforgettable road trip. Are you ready to experience the best beaches in Oregon? Grab the sunscreen and a beach towel, and let's hit the road!
Check out the customizable Google map for the road trip here.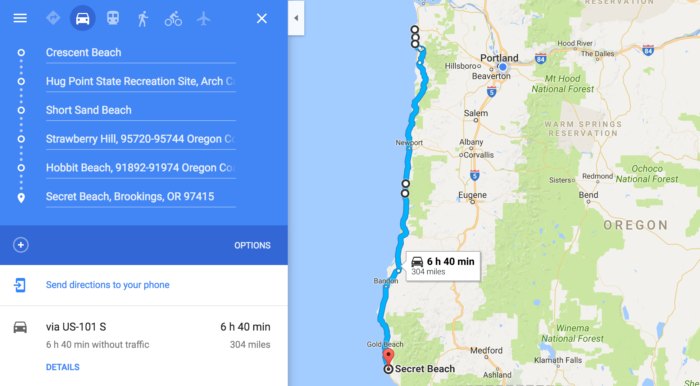 This incredible road trip will take you to the best hidden beaches in Oregon, and it's a treat for state residents and visitors alike. Which of these Oregon beaches is your favorite?
Find out about 10 more unforgettable hikes to take along the Oregon Coast in this article.
OnlyInYourState may earn compensation through affiliate links in this article. As an Amazon Associate, we earn from qualifying purchases.
More to Explore
Hidden Beaches In Oregon
What are the prettiest beaches in Oregon?
While Oregon may not be a typical vacationer's tropical paradise, this enchanting state in the Pacific Northwest is well worth a visit. It is one of the most striking and geographically diverse states in the nation, and its western coast is overflowing with stunning beaches. If you're craving a trip to Oregon beaches, there are many delightful destinations waiting to entertain you. Indian Beach is a hidden gem, and Cannon Beach is considered to be the best sandy beach in Oregon. The beaches in the above road trip, of course, are also spectacularly beautiful.
What are the best beach towns in Oregon?
If there's one thing that's more enchanting than our state's beaches, it's our beachfront towns. Who doesn't love a pleasant dip in the ocean followed up by local dining and a romantic night on the town?! Depoe Bay features a beach with the clearest water in Oregon that's downright magical for whale watching, and Winchester Bay is an incredible place to indulge in small town charm. You can find more charming Oregon beach towns here.
What beaches have the clearest water in Oregon?
While many coastal beaches are strikingly pristine, Waldo Lake in Oregon features some of the most pristine water anywhere in the world! The lake was, to its benefit, a challenge to access up until the 1970s, an era when the Clean Water Act began protecting local waterways. Consider adventuring to Alpine Lakes like this to discover strikingly clear water and beautiful surroundings.
Related Articles