18 Best Hikes in Oregon: The Top-Rated Hiking Trails to Visit in 2023
From the majesty of the 362-mile coastline in Oregon to the jaw-dropping mountainous regions, hiking in Oregon is nothing short of pure perfection. With over 350 state parks, 11 national forests, and 21 national wildlife refuges, it's no wonder that the best hikes in Oregon are quite easy to come by. Plus, hiking the Oregon coast is nothing short of spectacular. If that alone didn't convince you to hit the trails, this comprehensive list of some of the best hiking trails in Oregon should do the trick.
Looking for some more inspiration to get your hike on in Oregon? Try AllTrails+ For Free! Alltrails+ allows hikers of all experience levels to unlock exclusive map details, bring trails to life with 3D maps, get alerts for wrong turns, and so much more. Sound like the perfect accompaniment for your Oregon hiking adventure, right? Time to lace up those hiking boots and hit the ground running! Or…leisurely strolling.
Best Hikes in Oregon
Hiking in Oregon is some of the best in the country, and we're not just biased because we've explored this beautiful state before. There is something about the greenery, the mountains, the fresh air, and the water features that bring Oregon hiking trails to life. We've compiled a list of the best hikes in Oregon – perfect for anyone looking to get a taste of the great outdoors in the Pacific Northwest.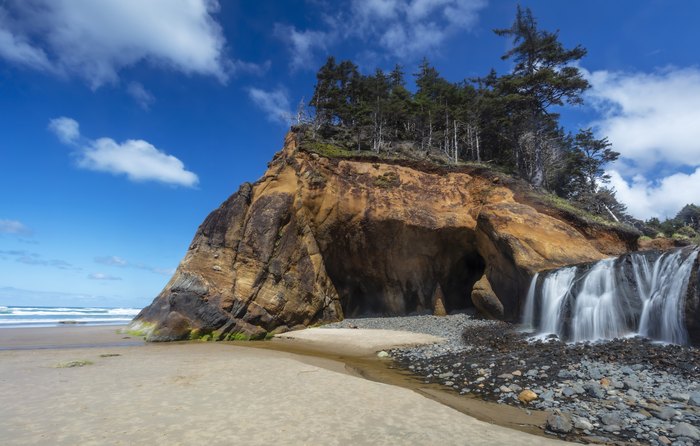 Best Short & Easy Hikes in Oregon
Sometimes you don't have all day to immerse yourself in nature. This means this is the perfect time to find those short but sweet hikes! Some of the best hiking trails in Oregon clock in at under three miles, and we have a few of our best to add to your bucket list.
Hardest Hikes in Oregon
We started off easy with some of the shorter and sweeter hikes in Oregon, and now it's time to go full throttle to a few of the hardest hikes. What makes these Oregon hiking trails hard are the distance, elevation changes, and terrain types. While these trails certainly do present a challenge to even the most experienced hiker, always do your due diligence before attempting any of these hikes below.
Best Waterfront Hikes in Oregon
I'm going to go ahead and say it now – Oregon has some of the best waterfront hikes in the country. Not only are there miles upon miles of spectacular Oregon coast to meander along, but there are also trails that will lead you to stunning lakes, magnificent waterfalls, and jaw-dropping rivers. Finding a waterfall hike in Oregon is like winning the lottery, and we have some of the lucky gems to add to your list.
Best Winter Hikes in Oregon
Hiking during the wintertime? Sounds preposterous, we know. However, Oregon has certain hiking trails that are the most stunning during winter. Whether it's a waterfall frozen over in a cascade over the rocks or snow-draped trails glistening in the sunshine, winter really does bring out an entirely different side of Oregon. Will you bundle up and enjoy it with us?
Best Hikes near Portland, Oregon
Many first-timers to Oregon end up going straight to Portland, which isn't a terrible thing to do. Portland is filled with weird, wacky, and wonderful things to do. You can shop at local vendors and dine at coveted hidden gem eateries. Or, you can take a hike! That's right, just because you're visiting a major city does not mean you have to miss out on nature. Take a look at the best hikes near Portland, Oregon, and prepare to be wowed.
There's no better way to marvel at the beauty of the Pacific Northwest than by exploring the various hiking trails in Oregon. Once you see all of these incredible trails to hike in Oregon, you'll understand why hiking is such a coveted hobby for locals. Whether it's trekking behind a waterfall or ending up with endless views of the coastline, some of the best hikes in Oregon are right in your backyard.
OnlyInYourState may earn compensation through affiliate links in this article. As an Amazon Associate, we earn from qualifying purchases.
More to Explore
Best Hikes In Oregon
Does Oregon have good hiking trails?
Oregon has incredible hiking trails - often touted as some of the best hiking trails in the country. A few of the best hiking trails in Oregon include:
Lower, Middle, and Upper Rosary Lakes
Spencer Butte
Rowena Plateau Trail
Trillium Lake Trail
Mount Scott Trail
Cape Meares Lighthouse Loop
Tumalo Falls
Neahkahnie Mountain
Trail of Ten Falls
Salmon River Trail
Salt Creek Falls
Whether you're trekking along the Columbia River Gorge, traversing through the mountains of Bend, or visiting a National Park, the hiking trails in Oregon are rated as some of the most beautiful across the United States.
What are the best months to hike in Oregon?
The best months to hike in Oregon are from April through October. This allows much of the snow and winter weather to dissipate and flowers to bloom. Since Oregon has hiking trails that change in elevation, it's best to hike when there is no snow or slippery weather, and late spring, summer, and early fall are often the driest conditions of all. However, there are a few special hiking trails in Oregon that we mention above, that are best when enjoyed during the winter months.
Related Articles
Explore Oregon