9 Gorgeous Frozen Waterfalls In Oregon That Must Be Seen To Be Believed
There's something truly magical about a wintery waterfall; the stunning sight of an ethereal cascade framed by ice and snow is an almost otherworldly beauty. Here are nine waterfalls in Oregon that are breathtaking that become even more enchanting when the temperature drops below freezing. Bundle up and grab your gear, and prepare for a day of stunning scenery on these best winter hikes in Oregon!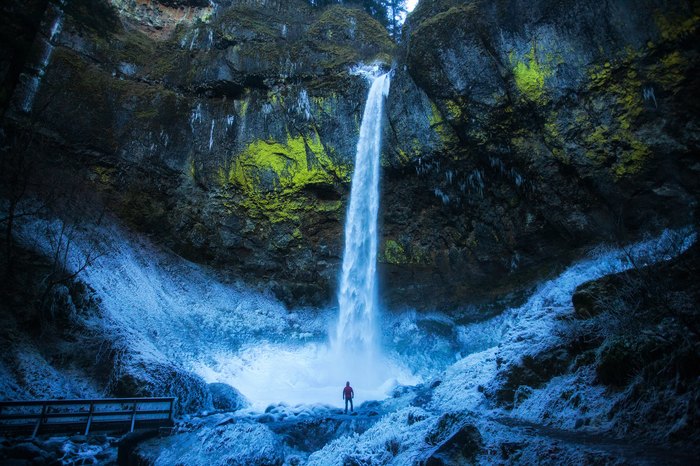 Find out about some of the best winter hikes in Oregon. Which of these waterfalls in Oregon do you think is the most beautiful? Tell us in the comment section below!
OnlyInYourState may earn compensation through affiliate links in this article. As an Amazon Associate, we earn from qualifying purchases.
More to Explore
best winter hikes in Oregon
How many waterfalls are there in Oregon?
It's estimated that there are at least 238 in Oregon -- and that's not including smaller falls and seasonal falls, like what you'll discover after an abundant spring rain or post-winter melt. Want to see them all? We can help with that; we've put together an adventure where you can explore some of the best waterfalls in Oregon -- check out this epic road trip!
What are some fun things to do during the winter in Oregon?
Winter in Oregon is a wonderful time of year, full of lovely scenery and crisp-perfect conditions for a whole slew of outdoor recreation. We suggest going *all in* on winter and hitting the ski slopes. Colorado and Utah may get the spotlight in terms of skiing and snowboarding, but Oregon holds its own in terms of winter recreation. Happily, the forecast this year looks promising for snow lovers, and you can enjoy the best the PNW has to offer at these five fantastic ski resorts in Oregon. Among those on the list, we especially love Timberline Lodge; it is perhaps the most iconic and well-known Oregon ski resort! In fact, with its picture-perfect perch on Mt. Hood, Timberline Lodge offers one of the most thrilling and unique alpine mountain experiences in the country and attracts skiers from all over. The park offers myriad pass options for singles and families, beginners and advanced, the details of which are available through their website.
What's the most famous waterfall in Oregon?
The most famous waterfall in Oregon is, hands down, Multnomah Falls. This 620-foot stunner is located in the incredible Columbia River Gorge, a veritable treasure trove of waterfalls! (There are 90+ waterfalls on the Oregon side of the Gorge alone, in fact.) But of course, Multnomah isn't the only superlative superstar here in Oregon; Silver Falls State Park also boasts its own impressive array of waterfalls. On the Trail of Ten Falls, you'll pass not one, not two, but, as its name suggests, 10 glorious waterfalls! Each is more impressive than the last, so it you want to be dazzled by some of the best waterfalls in Oregon, definitely head to this beautiful Beaver State park.
Related Articles
Explore Oregon