This Epic One-Day Road Trip Across Ohio Is Full Of Adventures From Sunrise To Sunset
Ohio may not be the biggest state, but it's full of amazing attractions and bucket-list-worthy destinations — so much so that it would take a lifetime to visit them all. So today, we're starting a bit smaller, with a day-trip itinerary that's still quite ambitious. If you have a tank of gas and a day to spare, we have the ultimate adventure for you! This epic one-day road trip across Ohio is full of fun from sunrise to sunset, offering an unrivaled experience of the Buckeye State you're sure to remember.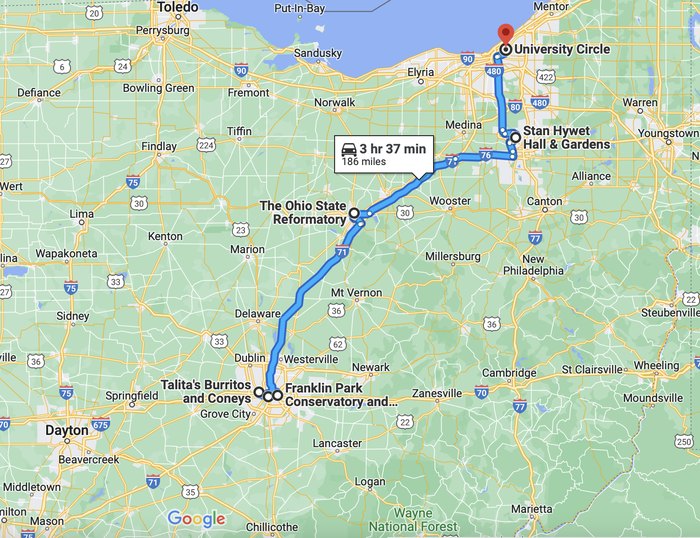 Looking for more road trips in the Buckeye State? This family-friendly trip visits some of our state's most noteworthy roadside attractions, and is sure to satisfy your wanderlust!
Address: Stan Hywet Hall & Gardens, 714 N Portage Path, Akron, OH 44303, USA
Address: Stan Hywet Hall & Gardens, 714 N Portage Path, Akron, OH 44303, USA
Address: University Circle, Cleveland, OH, USA
Address: Talita's Burritos and Coneys, 1335 Dublin Rd, Columbus, OH 43215, USA
Address: Center of Science and Industry (COSI), 333 W Broad St, Columbus, OH 43215, USA
Address: Franklin Park Conservatory and Botanical Gardens, 1777 E Broad St, Columbus, OH 43203, USA
Address: The Ohio State Reformatory, 100 Reformatory Rd, Mansfield, OH 44905, USA