Getting There Is Half The Fun In This Awesome And Super Scenic Ohio Road Trip
Here at OnlyInYourState, we have an unabashed love for road trips. Especially in Ohio, a state that's literally within a day's drive of some of the country's coolest big cities, most beautiful national parks, and acclaimed attractions! With summer in sight we've put together an awesome Ohio road trip with a journey that's as beautiful as the destination — getting there, as it were, is half the fun. Buckle up and grab your favorite car snacks — this weekend road trip in Ohio is pure, unadulterated awesomeness! (Kind of like the Buckeye State herself…)
Awesome Ohio Road Trip Itinerary/Map
We designed this road trip to be tackled over the course of a weekend, with suggested dining and lodging along the way. Spanning roughly 330 miles, this trip visits the Three Cs of Ohio, starting in Cincinnati and winding through Columbus and Cleveland. Sandusky is our final stop on the trip.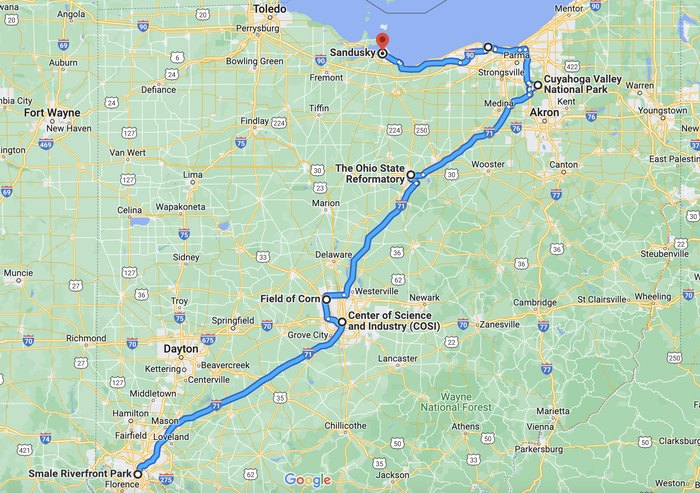 Day 1: Cincinnati to Columbus to Cuyahoga Valley National Park
This trip begins in the far southwest corner of the state at one of our favorite places: Smale Riverfront Park. Whether you simply "wave hi" to Cincinnati en route to Columbus, or stop and wander the riverfront, we think you'll agree it's a solid start to this awesome Ohio road trip.
Day 2: Cuyahoga Valley NP to Cleveland
Well rested, bright-eyed and bushy tailed, Day 2 is all about exploring. First up: a morning at Cuyahoga Valley National Park, followed by some sightseeing in The Land.
Day 3: Sandusky
Hailed as one of the country's best coastal towns, we're capping off this awesome Ohio road trip with a visit to Sandusky. Whether you choose to spend the day wandering the boardwalk or riding roller coasters is up to you — as is the option to make this road trip "end" the beginning of a vacation in The Roller Coaster Capital of the World!
Whether you spend a day or weekend on this awesome Ohio road trip, one thing is sure: the journey really is just as fun as the destination!
OnlyInYourState may earn compensation through affiliate links in this article.
Related Articles