Shop 'Til You Drop And Recover With Ice Cream On This Northeast Ohio Day Trip
A day trip offers the perfect way to treat yourself to a day away from the stressors of normal life. Whether you want to jam-pack your day with activities or opt for just a few destinations, you'll find an abundance to do all over Ohio. Summon your inner treasure hunter when you embark on this northeast Ohio day trip that leads to The Bomb Shelter, a vintage and antique shop, capped off by a delicious ice cream treat at Strickland's Frozen Custard. Both destinations are right in Akron, which means you don't have to travel far and will only require a single tank of gas.
The Bomb Shelter sits just 3.3 miles from Strickland's Frozen Custard, so you'll spend around eight minutes traveling from one to the other, according to Google Maps. If you run into too much traffic or other issues, Google also features a route that is just a mile longer and only takes a few minutes more.
A leisurely day of antiquing followed by a one-of-a-kind cold treat at the Original Strickland's Frozen Custard. Does it get any better? If you're a bit too far to set off on this day trip, you're still in luck. Here are 9 epic road trips that will take you to some of the most unique and most fun destinations in Ohio.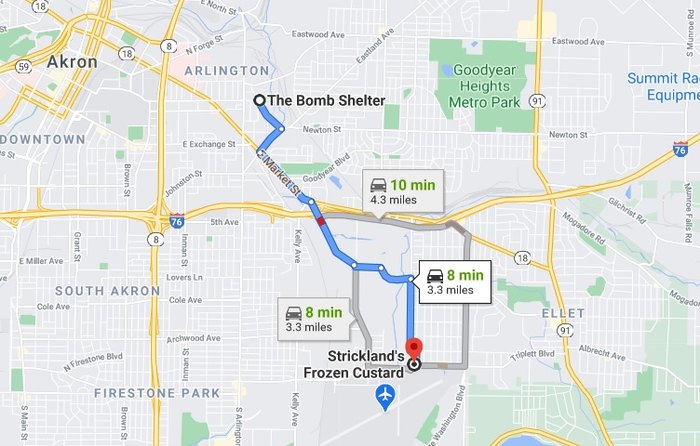 If you're in need of a relaxing day out that features an abundance of hidden treasures and good eats, you can't go wrong with this northeast Ohio day trip to The Bomb Shelter and Strickland's Frozen Custard. On the day of your adventure, plug your address into Google Maps, to tailor the day trip to your needs. More adventures await in Ohio, too, and you can discover some of the best when you follow Only In Ohio on Facebook. Don't forget to sign up for Ohio's daily newsletter, too, which will be delivered to your email inbox each day.
Address: 923 Bank St, Akron, OH 44305, USA
Address: 1809 Triplett Blvd, Akron, OH 44312, USA