Enjoy Shopping For Antiques And Ice Cream On This Day Trip In Central Ohio
A day trip often beats a road trip, especially when we have limited free time to just relax and have fun. When that day trip in Ohio requires a lone tank of gas and very little time behind the wheel, it becomes the perfect way to spend a day. Carve out some time for a day trip that is the very definition of perfect and will take you to Heritage Square Antique Mall in Columbus for a bit of treasure hunting before you make your way to Velvet Ice Cream in Utica for more fun and a delicious treat.
Fill up your car's gas tank for the trip between destinations that takes, according to Google Maps, about 50 minutes if you take one of its two shorter routes, both of which span 41.1 miles. However, if you'd prefer to drive less miles in a bit more time, follow the 35.2-mile route that takes around 53 minutes. None of the routes, however, take traffic into consideration.
Does it really get any better than a day trip in Ohio filled with shopping and digging into delicious goodies as you travel from Heritage Square Antique Mall to Velvet Ice Cream? Even if you're not close enough to embark on this day trip, you can still get in on the fun. Here are 9 day trips in Ohio that promise a whole lot of fun and adventure.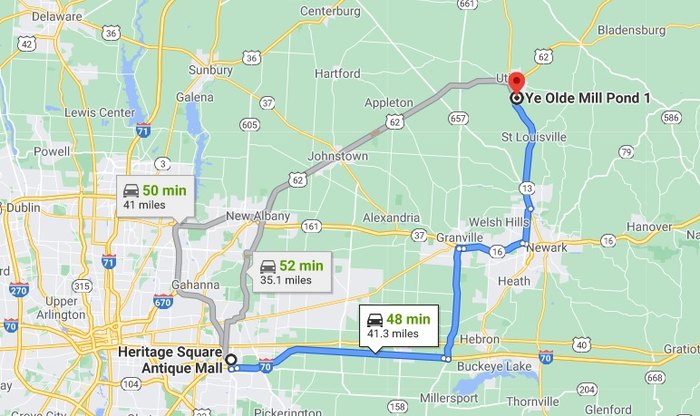 Next time you've got a free day, make it the best yet with a day trip to Heritage Square Antique Mall and Velvet Ice Cream shop. To make your journey even more seamless, just plug your starting address into Google Maps. However, that's just a tiny bit of fun that awaits all through Ohio. Discover hidden gems and a full menu of adventures when you follow Only In Ohio on Facebook and sign up for Ohio's daily newsletter.
Address: 1865 Channingway Center Dr, Columbus, OH 43232, USA
Address: Ye Olde Mill Pond 1, Washington Township, OH 43080, USA