Fill The Tank And Visit This Antique Center And Ice Cream Shop In Western Ohio For A Fabulous Day Trip
Boredom really is a rare commodity in Ohio; after all, it's brimming with unique and fun destinations just waiting for us to explore. A day trip often provides the perfect way to spend a relaxing day discovering a part of Ohio we might have never seen before. When you set off on the unforgettable Western Ohio day trip to Heart of Ohio Antique Center in Springfield and Young's Jersey Dairy in Yellow Springs, you'll only need to fill your gas tank once, bring your sense of adventure, and wear comfy shoes for a bit of treasure hunting.
An amazing day trip doesn't have to mean hours on the road, and this antiques and ice cream day trip proves that. The two destinations sit just 15 miles apart. Google Maps, in fact, provides three different routes, so you can choose which one works best for you. The shortest route, at 14.9 miles in 18 minutes, requires a bit less driving than the longest route of 19.5 miles in 23 minutes.
Does a sound of a day antiquing and indulging in delicious ice cream sound perfect, but you're just not close enough to follow this itinerary? Here are 9 other epic day trips in Ohio that promise just as much fun and excitement.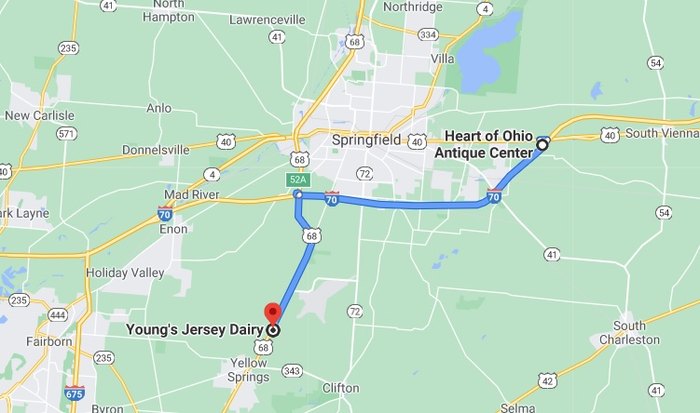 Can you think of a better way to spend a day than antiquing capped off by even more fun and ice cream on this Western Ohio day trip? Google Maps makes it easy to plug in your address to customize the directions for your epic day trip. However, that's just the beginning of the fun and adventure that await all across Ohio. Uncover more unique destinations and epic adventures by following Only In Ohio on Facebook and by signing up for Ohio's daily newsletter, which will be delivered straight to your email inbox.
Address: Heart of Ohio Antique Center, 4785 E National Rd, Springfield, OH 45505, USA
Address: Young's Jersey Dairy, 6880 Springfield Xenia Rd, Yellow Springs, OH 45387, USA
OnlyInYourState may earn compensation through affiliate links in this article.