Adventure Awaits When You Embark On This Northern Ohio Winery And Waterfall Day Trip
A road trip might once have been considered the ultimate adventure, but it has a bit of competition now – the day trip. A day trip packs a whole lot of fun into a single day and, if you're lucky, you'll only need to fill your car's tank with gas once before you set off. A day trip to the Winery at Wolf Creek in Barberton, followed by a relaxing stroll by Brandywine Falls in Northfield, offers the perfect way to spend a leisurely day that's sure to be filled with memorable moments.
Travel time between the Winery at Wolf Creek and Brandywine Falls is surprisingly short, so you won't have to spend too much time in the car. Google Maps offers two routes that are pretty even when it comes to time and distance. The shorter route will take you 24.2 miles in 31 minutes while the slightly longer route clocks in at 26 miles in 32 minutes.
Even if this day trip isn't close enough for you to embark on, you're in luck. Check out these 10 epic day trips – each requiring only a single tank of gas – that will show you a side of Ohio you might not have seen yet.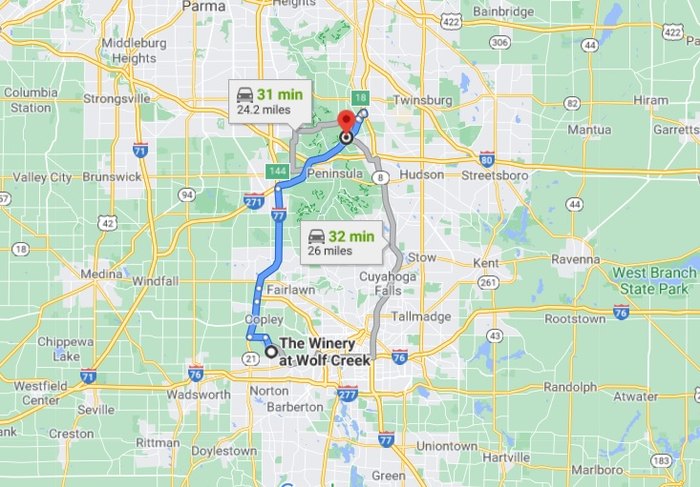 Wine and a waterfall just might be the most perfect pairing, and it goes even better on this picturesque day trip to the Winery at Wolf Creek and Brandywine Falls. To make your journey a seamless one, plug your starting address into Google Maps before you set off. However, that's just the start of your adventures in exploring Ohio. To discover a slew of bucket-list-worthy destinations, follow Only In Ohio on Facebook, and don't forget to sign up for Ohio's daily newsletter.
OnlyInYourState may earn compensation through affiliate links in this article.
Address: The Winery at Wolf Creek, 2637 S Cleveland Massillon Rd, Barberton, OH 44203, USA
Address: Brandywine Falls, Sagamore Hills Township, OH 44067, USA