12 Of The Most Beautiful Fall Destinations In North Carolina
No matter where you are in the Tar Heel State, you'll find that fall in North Carolina brings with it brilliant hues, breezes that feel as if they'll whisk you away, and a calm serenity as you enjoy both to the fullest. We're fortunate to live in such a gorgeous state to experience it all beginning in just a few weeks. Until then, dazzle your sense of adventure with an enticing look at 12 of the best places to experience fall in North Carolina.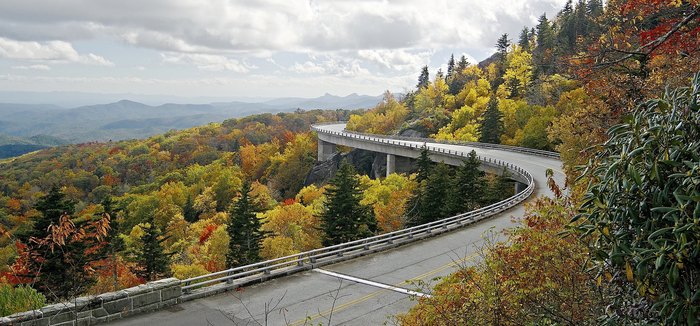 Where is your go-to spot for enjoying everything that fall in North Carolina has to offer? And will you be going there this year, or does the pandemic have you considering just staying home? We'd love to know, so join the discussion in our Facebook comments!
Address: Linn Cove Viaduct, 3218 Blue Ridge Pkwy, Newland, NC 28657, USA
Address: Julian Price Memorial Park, Milepost, 297 Blue Ridge Pkwy, Blowing Rock, NC 28605, USA
Address: Mingus Mill, Mingus Creek Trail, Cherokee, NC 28719, USA
Address: Pilot Mountain State Park, 1792 Pilot Knob Park Rd, Pinnacle, NC 27043, USA
Address: Biltmore, 1 Lodge St, Asheville, NC 28803, USA
Address: Stone Mountain, North Carolina 28685, USA
Address: Crabtree Falls, 39000 Blue Rdg Pkwy, Marion, NC 28752, USA
Address: The North Carolina Arboretum, 100 Frederick Law Olmsted Way, Asheville, NC 28806, USA
Address: American Tobacco Trail, Durham, NC, USA
Address: Cherohala Skyway, United States
Address: Graveyard Fields 418.8, Graveyard Fields, Canton, NC 28716, USA
Address: Upper Whitewater Falls, North Carolina 28717, USA
fall in North Carolina
August 17, 2022
Where can I go to see the fall foliage in North Carolina?
If you're someone who celebrates the arrival of autumn every year, you'll be thrilled to hear that North Carolina is an excellent state for leaf-peeping. To see the fall foliage in North Carolina, you can visit just about any region of the state, although the mountains are where the foliage seems to shine brightest. Some of our favorite places to visit in North Carolina during the fall include Hanging Rock State Park, the Linn Cove Viaduct, Roan Mountain, Linville Gorge, and Mount Mitchell. If you're planning to visit any of these spots, keep in mind that they're popular and tend to draw significant crowds during the fall season. Our advice would be to visit early in the day or during a weekday!
Address: Linn Cove Viaduct, 3218 Blue Ridge Pkwy, Newland, NC 28657, USA
Address: Julian Price Memorial Park, Milepost, 297 Blue Ridge Pkwy, Blowing Rock, NC 28605, USA
Address: Mingus Mill, Mingus Creek Trail, Cherokee, NC 28719, USA
Address: Pilot Mountain State Park, 1792 Pilot Knob Park Rd, Pinnacle, NC 27043, USA
Address: Biltmore, 1 Lodge St, Asheville, NC 28803, USA
Address: Stone Mountain, North Carolina 28685, USA
Address: Crabtree Falls, 39000 Blue Rdg Pkwy, Marion, NC 28752, USA
Address: The North Carolina Arboretum, 100 Frederick Law Olmsted Way, Asheville, NC 28806, USA
Address: American Tobacco Trail, Durham, NC, USA
Address: Cherohala Skyway, United States
Address: Graveyard Fields 418.8, Graveyard Fields, Canton, NC 28716, USA
Address: Upper Whitewater Falls, North Carolina 28717, USA