10 Country Roads In North Carolina That Are Pure Bliss In The Fall
If there are two things North Carolinians love, it's autumn and long drives through gorgeous country roads. When fall is in full force, you can make the most of the two by combining them! Blue Ridge Parkway is the most famous for fall drives, and for good reason. But there are plenty more. Let's look at 10 wonderful options for scenic drives in North Carolina.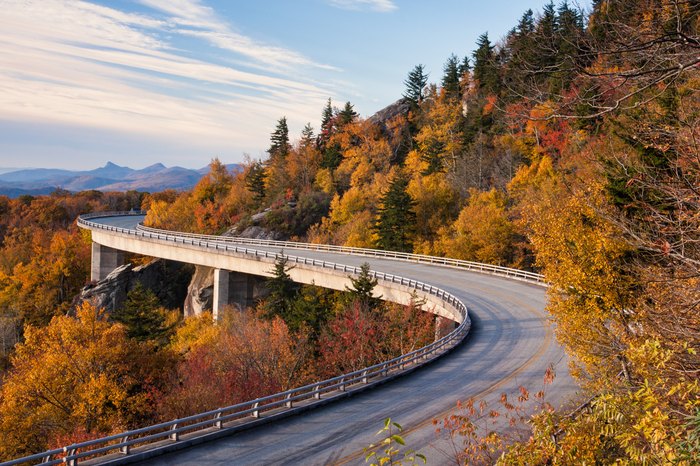 What are some of your favorite fall drives in North Carolina?
Sure, the mountains claim most of the beauty this time of year, but the Outer Banks Scenic Byway could quite possibly be the most beautiful drive, year-round, in America. Read all about it here.
Address: Blue Ridge Parkway, Blue Rdg Pkwy, Cherokee, NC, USA
Address: Whitewater Way Northwest, Whitewater Way NW, Concord, NC 28027, USA
Address: Hanging Rock State Park, 1790 Hanging Rock Park Rd, Danbury, NC 27016, USA
Address: Pisgah National Forest, 160 Zillicoa Street, Asheville, NC 28801, USA
Address: Meteor Lakes Scenic Byway, North Carolina
Address: Mount Mitchell, Mt Mitchell, North Carolina 28714, USA
Address: Deals Gap, North Carolina 37885, USA
Address: Yadkin Road, Yadkin Rd, Fayetteville, NC, USA
Address: Outer Banks, North Carolina, USA
Scenic Drives In North Carolina
August 15, 2022
Does North Carolina have any natural wonders?
North Carolina certainly has some interesting natural wonders along its scenic drives. From sand dunes to caverns to ancient rivers to large granite mountains, there is plenty to see and explore. Read The 15 Most Incredible Natural Wonders In North Carolina to find out about these and more. 
What are the best beaches in North Carolina?
There are many wonderful beaches in North Carolina, but Lifeguarded Beach in Ocracoke has recently been named the best beach in America! Read all about it in the article, The Best Beach In America Is Right Here In North Carolina And It's Only Accessible By Boat Or Plane. You might want to make some plans.
There are plenty of other beaches to visit too. 10 Amazing North Carolina Beaches Perfect For Your Next Summer Vacation will have you headed in the right direction. If you want something a bit off the beaten path, try 10 Little Known Beaches In North Carolina That Will Make Your Summer Unforgettable.
What are the most picturesque hiking trails in North Carolina? 
When taking scenic drives in North Carolina, it is only natural to want to climb out of the car and take a hike. You are in luck because there are many great options for pretty hikes throughout the state. There are mountains to walk through, waterfalls to photograph, historical homesteads to explore, and overlooks to rest upon. These 12 Trails In North Carolina Will Lead You To Unforgettable Places is a nice primer on places to try. 
If you are looking for a quick and beautiful excursion, you might check out The Hawksbill Mountain Trail Might Be One Of The Most Beautiful Short-And-Sweet Hikes To Take In North Carolina. Be sure to bring along your camera. This trail has something for everyone, and everyone can easily enjoy it. Let us know if you agree!
Address: Blue Ridge Parkway, Blue Rdg Pkwy, Cherokee, NC, USA
Address: Whitewater Way Northwest, Whitewater Way NW, Concord, NC 28027, USA
Address: Hanging Rock State Park, 1790 Hanging Rock Park Rd, Danbury, NC 27016, USA
Address: Pisgah National Forest, 160 Zillicoa Street, Asheville, NC 28801, USA
Address: Meteor Lakes Scenic Byway, North Carolina
Address: Mount Mitchell, Mt Mitchell, North Carolina 28714, USA
Address: Deals Gap, North Carolina 37885, USA
Address: Yadkin Road, Yadkin Rd, Fayetteville, NC, USA
Address: Outer Banks, North Carolina, USA