7 Little Known Swimming Spots In New Mexico That Will Make Your Summer Awesome
Now that summer's in full swing, you're probably ready to cool off. Although water parks are great for families and a ton of fun, perhaps you want a less crowded experience. If so, head to one of these places to swim in NM for a dip.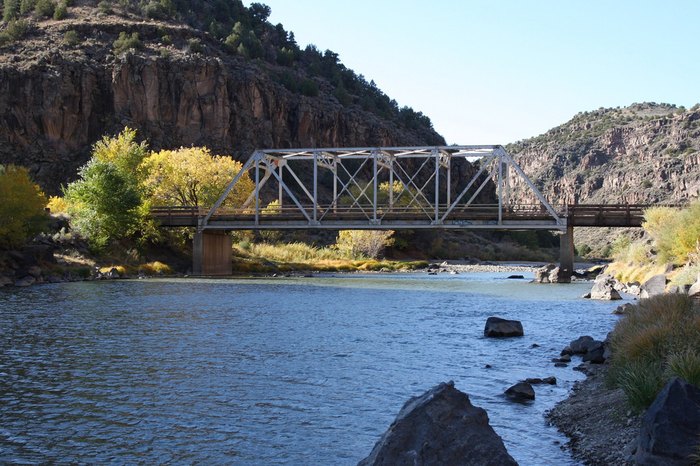 What are some of your favorite NM swimming holes? Tell us about your favorite places to spend summer in NM on our nomination page, and you just might see your suggestion featured in an upcoming article.
Remember to be mindful after heavy rainfall and to remain aware of flash flood warnings before swimming in New Mexico's rivers – safety first!
These are far from our state's only places to take a dip. Here are some more swimming lakes in NM. 
Address: Hotel Encanto de Las Cruces, 705 S Telshor Blvd, Las Cruces, NM 88011, USA
Address: Bluewater Lake State Park Road, Bluewater Lake State Pk Rd, New Mexico 87045, USA
Address: John Dunn Bridge, New Mexico 87529, USA
Address: Raton Regional Aquatic Center, 100 Memorial Ln, Raton, NM 87740, USA
Address: Leasburg Dam State Park, 12712 State Park Rd, Radium Springs, NM 88054, USA
Address: Nambe Falls, New Mexico 87506, USA
Places to Swim in NM
June 16, 2022
What are some of the best NM swimming holes?
When it comes to the best NM swimming holes, it's hard to beat Sitting Bull Falls. Tucked away in the Lincoln National Forest, this pristine oasis boasts not just one, but several natural pools where you can cool off on a hot summer day. One of them is even under the waterfall itself, and it's a truly picture-perfect sight. If you find yourself in the Carlsbad area in the summer, don't miss it.
Where are the best swimming lakes in NM?
Looking for swimming lakes in NM? One of our favorites is Caballo Lake in Sierra County. This mountainside is a haven for all sorts of watersports, including swimming, water skiing, windsurfing, and boating. On land, you can also go birdwatching and camp at nearby Caballo Lake State Park. It's a nature lover's dream!
What is there to do during summer in NM?
There are no shortage of activities to make every summer in NM your best one yet. We love visiting waterparks, as they allow you to beat the heat while having a great time. One of our favorite New Mexico waterparks is Cliff's Amusement Park in Albuquerque. This seasonal park boasts all sorts of attractions for all ages, from thrilling waterslides to toddler-friendly splash pads.
Address: Hotel Encanto de Las Cruces, 705 S Telshor Blvd, Las Cruces, NM 88011, USA
Address: Bluewater Lake State Park Road, Bluewater Lake State Pk Rd, New Mexico 87045, USA
Address: John Dunn Bridge, New Mexico 87529, USA
Address: Raton Regional Aquatic Center, 100 Memorial Ln, Raton, NM 87740, USA
Address: Leasburg Dam State Park, 12712 State Park Rd, Radium Springs, NM 88054, USA
Address: Nambe Falls, New Mexico 87506, USA