Take These 9 Country Roads In New Mexico For An Unforgettable Scenic Drive
In New Mexico, driving the backroads is often the key to unlocking some of the state's best scenery. There is no shortage of country roads here – many of them unpaved – to satisfy either those seeking adventure or simply escape. So next time you have a day off and a certain restless feeling, head out on these 9 scenic country roads in New Mexico that are less traveled. (Many of these routes involve unpaved roads and should not be attempted during bad weather.)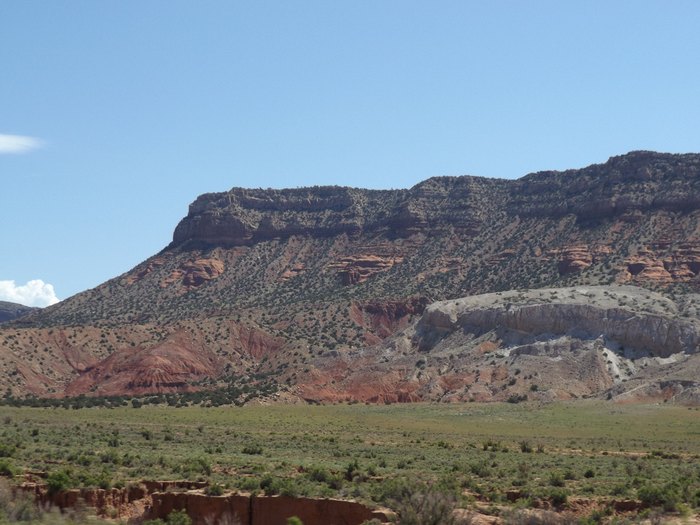 It's a little tricky to find the Quebradas Backcountry Scenic Byway. For more details, click here.
What are your favorite scenic country roads in New Mexico? Discover more of the prettiest places in New Mexico for more stunning scenery.
Address: Cuba, NM 87013, USA
Address: Bisti/De-Na-Zin Wilderness, County Road 7297, Bloomfield, NM 87413, USA
Address: Silver City, NM 88061, USA
Address: 30 Buffalo Thunder Trail, Santa Fe, NM 87506, USA
Address: Raton, NM 87740, USA
Address: Capulin, NM 88414, USA
Address: Shiprock, NM, USA
Address: 597 NM-597, Teec Nos Pos, AZ 86514, USA
Address: Taos, NM 87571, USA
Address: Mora, NM 87732, USA
Address: Carlsbad, NM 88220, USA
Address: Valle Vidal, New Mexico 87558, USA
Address: Back Country By Way, Socorro, NM 87801, USA
Scenic Country Roads In New Mexico
July 31, 2020
What are the best road trips through New Mexico?
The Land of Enchantment is full of stunning places, and what better way to see them all than on one of the many scenic drives in New Mexico? We've put together quite a few great New Mexico road trips. The New Mexico Natural Wonders Road Trip is great to see the state's amazing scenery and unique areas. You can visit some of the best parks in the state by taking the New Mexico State Park Road Trip, and you can discover the most picturesque small towns on this NM road trip. If you're feeling brave, try to get through the Haunted Places New Mexico Road Trip to experience creepy and possibly paranormal places.
What places in New Mexico should I see before I die?
There are many scenic places in New Mexico that are absolute must-sees for anyone who lives in or are just visiting the state. A visit to the annual Albuquerque International Balloon Fiesta should be on everyone's bucket lists. The iconic sight of the colorful hot air balloons drifting over the beautiful landscape is unforgettable. Another bucket list-worthy experience is a visit to the Rio Grande Gorge. Whether you hike in the area, cross the Rio Grande Gorge Bridge, or just enjoy it from the edge, it's certainly memorable. Visiting New Mexico wouldn't be complete without discovering its lovely pueblos and historic buildings, from the Taos Pueblo to the Gila Cliff Dwellings.
What underrated places in New Mexico should I visit?
Taking the back roads in New Mexico might lead you to some unknown yet totally awesome places. Their remote locations make them underrated but worth the extra miles to check out. The Chaco Culture National Historic Park is 24 miles out from the nearest small town, Nageezi, but the remarkable ruins shown here are impressive to see. You can swim underneath a waterfall when you visit the remote Sitting Bull Falls, part of the Lincoln National Forest. Though somewhat out of the way, the peaceful surroundings, cascading waters, and cool pool make for a great experience.
Address: Cuba, NM 87013, USA
Address: Bisti/De-Na-Zin Wilderness, County Road 7297, Bloomfield, NM 87413, USA
Address: Silver City, NM 88061, USA
Address: 30 Buffalo Thunder Trail, Santa Fe, NM 87506, USA
Address: Raton, NM 87740, USA
Address: Capulin, NM 88414, USA
Address: Shiprock, NM, USA
Address: 597 NM-597, Teec Nos Pos, AZ 86514, USA
Address: Taos, NM 87571, USA
Address: Mora, NM 87732, USA
Address: Carlsbad, NM 88220, USA
Address: Valle Vidal, New Mexico 87558, USA
Address: Back Country By Way, Socorro, NM 87801, USA