The Most Terrifying Ghost Story To Ever Come Out Of Montana Is Truly Chilling
Montana has a surprisingly large amount of ghost stories. We've got a haunted prison, haunted restaurants, and even a couple of haunted hikes. There have even been several books written about Montana's paranormal activity, and the stories are fascinating. Whether you believe in ghosts or not, reading about our state's spooky stories can be fun. But there aren't many fun stories about the hauntings at Glacier National Park's hotels. The most terrifying ghost story in Montana isn't just one tale, but a collection of sightings that mean one thing: The "ghost story" is that there are spirits who are either trapped here or choose never to leave this place in Montana. And the odds are good that you may see one… or, worse, that they have watched you sleep.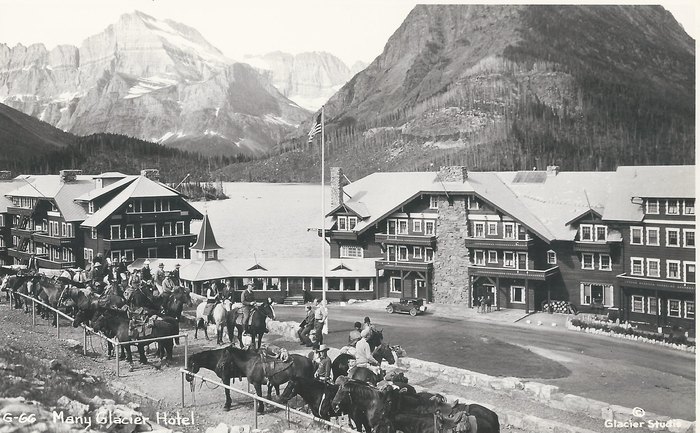 It's chilling to think there are ghosts lurking inside those walls that can't, or won't, leave. Of course, plenty of people stay at Glacier's old hotels and never see a spirit, making this simply a notoriously creepy Montana ghost story. If you're hoping to see something spooky, check out one of these haunted places.
Address: Glacier National Park, Montana, USA
Montana ghost story
October 26, 2021
What are some other ghost stories about Montana?
Here's a fun one: the Moss Mansion was built in 1902 for Martha and Preston Moss, and their children. From 1902 to 1984, it was a private residence for several generations of the Moss family. Over the years, six (possibly more) members of the family died here, and it seems they never left. Of all of the ghosts roaming the halls of the Moss Mansion, the most famous (and most active) one is thought to be that of little Virginia Moss, the six-year-old daughter of Martha and Preston Moss, who died in 1908 of diphtheria. Preston and Martha both died in the house as well, and there's no shortage of strange happenings at the Moss Mansion. There are strange shadows that flit out of view when one tries to look directly at them, and many EVPs (Electronic Voice Phenomenon) have been recorded here as well. Sometimes, even Preston Moss himself makes an appearance, most often on the staircase. There are also cold spots, and a strange, cold wind that surrounds people who aren't quite prepared for it. Whether or not this Montana ghost story is true, we plan to stay far, far away from this place!
Are there many haunted places in Montana?
If there's one thing Montana definitely has going for it, it's the plethora of hauntings and creepiness scattered throughout the state. We've got it all in terms of haunted places: haunted houses, haunted museums, haunted trails; heck, even a haunted mansion or two can be found in the Treasure State. It's a wild place to be! We've compiled a bunch of our favorite creepy facts and creepy pictures from Montana for your reading pleasure in this handy dandy guide. Check it out and you'll find some of the most haunted places in Montana!
What's the most haunted place to visit in Montana?
The Dude Rancher Lodge in Billings, Montana, is famous for its creepy, not-quite-dead residents, and thought by many to be the most haunted place in Montana. The lodge's original owner died in 1983, and that's right about when the strangeness began. Something invisible likes to knock on doors and walls, and there are strange, disembodied voices that are heard whispering throughout the building. If you're really hoping to catch some paranormal activity of your own, try to stay in rooms 223, 224, or 226 – they're supposedly the most haunted in the entire place!
Address: Glacier National Park, Montana, USA