Most People Don't Know The Story Behind Mississippi's Abandoned Bridge To Nowhere
Of all the abandoned places in Mississippi, not many have a past that is quite as sordid as the Hanging Bridge in Shubuta. As the name implies, the bridge was the setting for several gruesome lynchings. Remotely located and closed for quite some time, most people have no idea about the horrifying history of this abandoned bridge in Mississippi that now leads nowhere.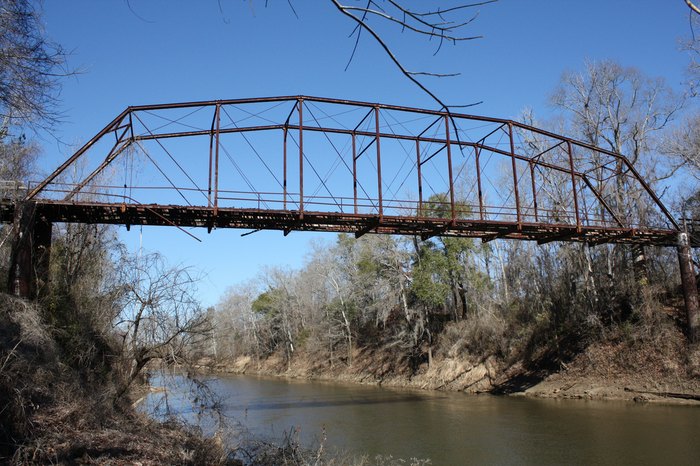 Learn more about the dark history of the Hanging Bridge in Shubuta in the video from YouTube user Marvin Carter:
So, did you know about this abandoned bridge in Mississippi? Have you ever been near this historic and tragic place? Share your experiences in the comments section.
The abandoned bridge to nowhere in Mississippi isn't the only bridge in the state worth exploring. Did you know there's only one covered bridge in Mississippi? It's totally worth exploring!
OnlyInYourState may earn compensation through affiliate links in this article.
Address: Shubuta, MS 39360, USA
Bridge To Nowhere In Mississippi
December 06, 2021
Are there any other abandoned places in Mississippi?
There are many abandoned places in Mississippi. Here are a few of the most famous:
There are lots of abandoned places in Mississippi, including Royal Land in Meridian. At one time a popular amusement park, Royal Land opened in the 1960s. The park included just a few rides – all of which were purchased secondhand and run by a generator. Royal Land's success was short-lived, though. It closed in the 1970s, after failing to attract enough customers. Today, there isn't much left of the former amusement park; however, the abandoned site continues to attract curious adventure-seekers.
What are some other creepy places in Mississippi?
As far as creepy places in Mississippi go, McRaven in Vicksburg tops them all. Not only is it touted as the most haunted home in Mississippi, but it's also considered the third most haunted house in the nation! Its spooky reputation hasn't been lost on paranormal investigators. Over the years, the home has been visited by numerous investigation teams and has even been featured on several national networks, including A&E, The Travel Channel, and 48 Hours. Today, McRaven offers both historic and haunted tours. Visitors can also take part in paranormal investigations.
Aside from the Hanging Bridge in Shubuta, are there any other eerie bridges in Mississippi?
The Hanging Bridge in Shubuta isn't the only bridge in Mississippi with a dark and evil past. Stuckey's Bridge in Lauderdale County also has a notorious reputation. The bridge, which spans the Chunky River, is named after Stuckey, a member of the Dalton Gang. According to legend, Stuckey opened an inn near the Chunky River, hoping to appeal to those traveling its waters. Unfortunately, Stuckey's guests would never check out, as he murdered them and stole their belongings. Stuckey disposed of his guests' corpses in the river. After Stuckey's evil doings were discovered, he was hung from the bridge. Legend says that Stuckey's ghost still haunts the bridge to this day.