The Michigan Steakhouse In The Middle Of Nowhere, Bill's Steak House, Is One Of The Best On Earth
Fantastic surprises often show up in the least likely of places. This is especially true when it comes to unique restaurants, many of which are situated slightly off the beaten path. When you're ready to visit the best steakhouse in Michigan, you'll have to take a bit of a detour — but trust us when we say that this eatery is well worth the journey.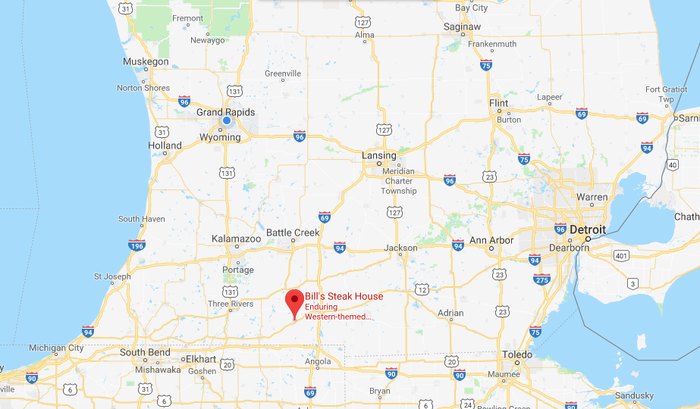 For more information about this eatery that seems to be situated in the middle of nowhere, click here. Have you dined at Bill's during its many decades years of business? Do you think it's the best steakhouse in Michigan? Share your experiences with us in the comments below!
Craving more delicious dining? You truly can't go wrong with a trip to some unsuspecting hole in the wall restaurants around the state.
Address: 670 W Chicago Rd, Bronson, MI 49028, USA
OnlyInYourState may earn compensation through affiliate links in this article.
The Best Steakhouse In Michigan
January 05, 2020
What are the best steakhouses in Michigan?
Here in The Mitten State, we've got a thing for comfort food. Perhaps it is because it has brought us warmth and happiness in the brutal winter months, or perhaps it is because our family cooking traditions are rooted in indulgent, decadent meals. Either way, we've developed into a society with a love of comfort food. Steakhouses are particularly coveted, and many are stationed in environments that are totally unique. Boone's Long Lake Inn is on the grounds of a former sawmill and, as such, is surrounded by forest. If you've ever craved a hands-on dining experience, The Grill House is one restaurant that's worth the drive in Michigan. They allow you to grill your own steak!
What is the fanciest restaurant in Michigan?
What is it that earns an eatery the honor of being the best restaurant in Michigan? While food obviously is the primary deciding factor of such a title, ambiance plays into it greatly as well. Sometimes, we just crave good food in a fancy-shmansy atmosphere. The Gandy Dancer is situated in a former Ann Arbor train station, and it is dreamy and sophisticated. Trattoria Stella in Traverse City, believe it or not, was once a psychiatric institution. You'd never guess it today – it's delightfully fancy!
What are the best hidden gem restaurants in Michigan?
There's so much to discover throughout Michigan's dining scene. Locals are always happy to offer dining suggestions, but if you ever choose to ask around, remember to request directions to the best hidden gem restaurant in Michigan. Standby is an artist's haven, and Farmers Restaurant brings country-style dining to the big city. These are two of many incredible dining destinations that locals can't get enough of – you may be surprised to discover what incredible restaurants are hiding in your own backyard!
Address: 670 W Chicago Rd, Bronson, MI 49028, USA
OnlyInYourState may earn compensation through affiliate links in this article.