This Haunted Road Trip Will Lead You To The Scariest Places In Michigan
Michigan has its fair share of ghost stories and urban legends, but there are a few spots in our state that stand out as especially creepy. If you're looking to explore some of the most haunted places in Michigan, here's a road trip that will certainly give you goosebumps. Get ready for a bone-chilling adventure. Find the map here to modify the route.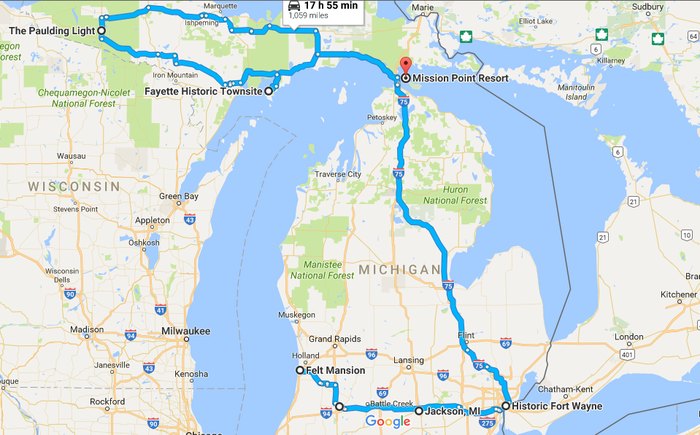 Are you brave enough to embark on a spine-chilling adventure through the most haunted places in Michigan? We wish you good fortune during your haunted tour of the Great Lakes State.
OnlyInYourState may earn compensation through affiliate links in this article.
Most Haunted Places In Michigan
August 22, 2019
What is the most famous ghost story from Michigan?
The most famous of the Michigan ghost stories takes place at the present-day Michigan Bell Tower Building. This structure was built on top of a gruesome crime scene from 1910. The story goes that Warren Randall was injured in a train accident and lost his leg. Then, in a fit of jealousy, Warren brutally murdered his wife and slit his own throat with a razor. The Michigan Bell Company purchased this land in 1924, and the property was turned into homeless housing in 2013. To this day, visitors report hearing the wails of Warren's murdered wife through the walls. Some even say she can be heard begging not to be killed. 
What is the most haunted town in Michigan?
Detroit is the most haunted city in Michigan. This iconic city is home to Fort Wayne, a historic landmark that's famous for its ghostly visitors. The Whitney Mansion is also located in Detroit, and people come from all around just experience a little paranormal activity. The largest Masonic Temple sits in Detroit, and rumor has it, this place is riddled with spirits.
What is the creepiest abandoned place in Michigan?
The Southwest Michigan Tuberculosis Sanitarium, located in Kalamazoo, is definitely one of the spookiest abandoned places in Michigan. Rusty bed frames sit inside these tattered walls, and some say they've even encountered spectral spirits among the rubble. If you ever do get the chance to explore this place, you may even hear the tuberculosis victims' moans echo down the hallways. The Northville Psychiatric Hospital is another terrifying abandoned building. The facility closed in 2003, but if you get the chance to explore it, you'll still see rows of desks lined up in the classrooms. Graffiti covers the walls and warped floorboards. You almost expect to hear the sound of faint laughter coming from the air vents.