What Life Is Like Inside The Tiny Town In Michigan With No Cars
Have you ever gone on vacation to a quaint little resort town and wondered what it would be like to actually live there? In America's unique and celebrated resort towns life is certainly interesting and fun. But we've never seen a resort town like this that doesn't allow motor vehicles. Step inside this small town and see some of the available things to do on Mackinac Island, Michigan, one of the most beautiful places in the U.S. — and all-around best small towns in the U.S.!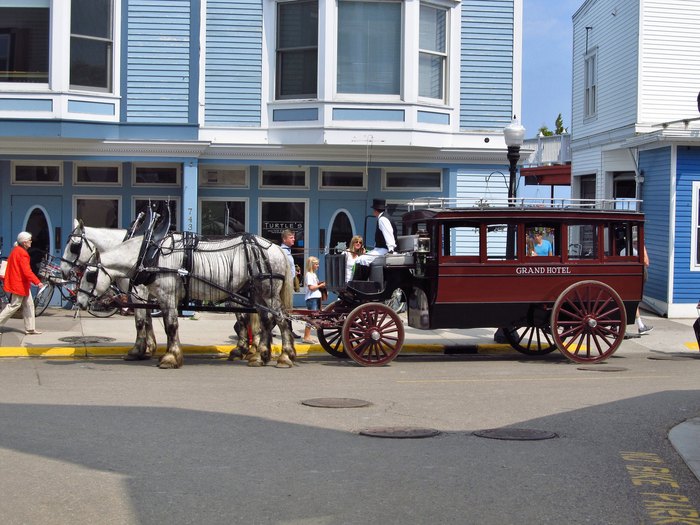 No matter where you live, the convenience of a car probably seems relatively important to you. Life for the residents of Mackinac Island seems pretty special to be free of this necessity.
Have you been to this car-free town in Michigan and did you travel by foot, bike, or carriage? We'd love to know what your favorite things to do on Mackinac Island, Michigan are, and see your photos in our comments on Facebook!
OnlyInYourState may earn compensation through affiliate links in this article.
Address: Mackinac Island, MI 49757, USA
Michigan Islands
March 08, 2021
What is the most scenic island in Michigan?
There are so many scenic islands in Michigan that it's hard to pick just one. The 55-square-mile Beaver Island has miles of coastline and untouched natural scenery that you don't want to miss. The aptly named Belle Isle has a long history, beautiful views, and a conservatory with architecture that stands out among the landscape. You should also plan a visit to Bois Blanc Island, which has roughly 70 year-round residents, no paved roads, and is unlike anywhere else you will visit in the state.
What other resort towns can I visit in Michigan?
Mackinac Island isn't the only resort town Michigan has to offer. There are several others offering anything from unique accommodations to unique experiences, but all of them are excellent choices to rest, relax, and get away from the grind of daily life. Antioch is one of the more popular destinations and sits along a bluff by the Wisconsin border. This resort town is surrounded by nature and is a popular place for outdoor activities like hiking and biking. At the confluence of the Mississippi and Illinois rivers is Grafton which happens to be home to Raging Rivers Waterpark. This resort destination is an excellent choice for those who have children.
What are the best beaches in Michigan?
Some of the best beaches in Michigan are:
Christmas Cove Beach in Northport, it delivers crystal

clear blue water and unspoiled views. It's truly stunning.

Twelve Mile Beach in Grand Marais which is a great choice for those who love to go camping. There are campsites right along the shore.

Sterling State Park which has beaches along Lake Eerie and is a place where you can camp, fish, and swim
Hoeft State Park which has 300 acres of land and access to Lake Huron along its sand-dune beaches.