Few People Know This Charming Small Town In Michigan Sits Exactly Halfway Between The Equator And The North Pole
It's no secret that Michigan is chock full of surprises, whether you're fascinated by the great outdoors, man-made attractions, or some combination of the two. But when it comes to finding the most interesting places in Michigan, we're definitely home to some out-of-the-box destinations. For geography buffs, there's one unique community here in the Great Lakes State that's well worth discovering – and those who aren't aware of its existence are sure to be impressed. This delightful small town is home to a marker for the 45th parallel in Michigan, and you'll want to experience it for yourself.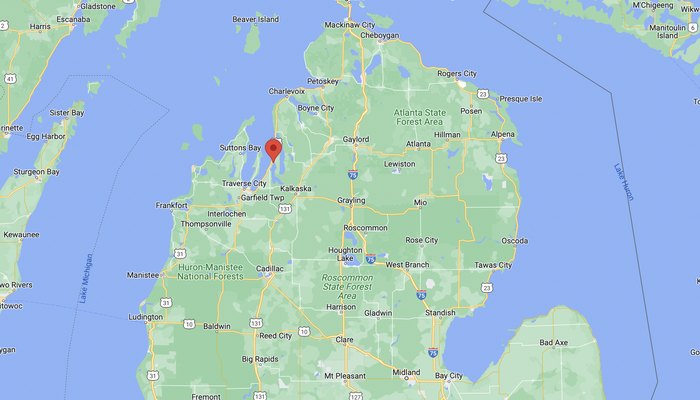 Have you ever visited this small town at the 45th parallel in Michigan? We love hearing from our readers, so be sure to share your photos and experiences with us by leaving a Facebook comment. If there's another geographically significant place in Michigan that we should be aware of, be sure to fill out our official nomination form.
If you're looking for more fun things to do in Michigan, read about this one-of-a-kind international wildlife refuge. Or, check out some of the coolest natural wonders in Michigan!
OnlyInYourState may earn compensation through affiliate links in this article.
Address: Kewadin, MI 49648, USA
45th Parallel in Michigan & Related Info
February 14, 2023
Are there any historical markers in Michigan?
The 45th Parallel may not (at this time) have its own official green and gold sign plate, but Michigan is nevertheless home to literally hundreds of unique historical and geographic markers - a unique program that was established in 1955. There are over 1,700 of them! The state's historical markers program tops the charts in comparison to the rest of the country, and creates an easy way for visitors to learn more about the state's history, most beautiful sights, and most fascinating pieces of architecture. A few more notable and/or unique stops on the official Michigan Historical Markers Trail include (listed by marker name):
Camp Lunden
Chapman Abraham/Jewish Soldiers in the Civil War
Conant Gardens
Detroit July 1967
Douglass Houghton
First Mile of Concrete Highway
Fort Gratiot Light
Kirtland's Warbler
Mackinaw City
Northernmost Point of Lake Michigan
Peter Seitz Tavern and Stagecoach Inn
Silver Beach Carousel
Sterns Telephone
Treaty of Springwells
Underground Railroad
Travelers can also find Michigan historical markers in other states as they relate back to state history.
What are some of the best historical museums to visit in Michigan?
To get a more comprehensive picture of Michigan's state history, as well as that of the U.S. and other unique, overlooked subgenres in regional history, Michigan is fortunate to be home to so many spectacular museums. From small-town specialty sites to some of the most popular museums in the state, here are just a few Michigan museums worth checking out:
Air Zoo Aerospace & Science Museum, Portage
Detroit Historical Museum, Detroit
Detroit Institute of Arts, Detroit
Gilmore Car Museum, Hickory Corners
Grand Rapids Public Museum, Grand Rapids
Great Lakes Shipwreck Museum, Paradise
Henry Ford Museum of American Innovation, Dearborn
Michigan History Center, Lansing
Michigan Iron Industry Museum, Negaunee
Hartwick Pines Logging Museum
Ziibiwing Center, Mt. Pleasant
Zekelman Holocaust Center, Farmington Hills