These 5 Creepy Asylums In Michigan From The State's Past Are Quite Disturbing
The very thought of an asylum conjures up disturbing images of lobotomies, patients wasting away in decrepit cell-like rooms, and the criminally insane mixing dangerously close to those who pose no threat. It also has us thinking about the thousands of unfortunate souls who had no chance of ever leaving. Instead, they were left to die, their ghosts forever remaining to haunt the halls of their earthly prisons. Here are some such asylums in Michigan with stories that can keep you up at night with fear.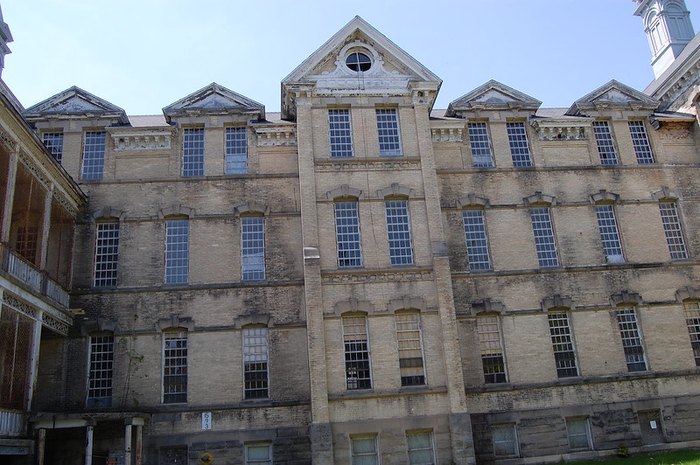 These are some of the more prominent sanitariums, state hospitals, and asylums in Michigan with haunting pasts. Which of these do you find most creepy? Have you taken a guided tour through any abandoned places in Michigan? Tell us in the comments below!
And if you have an insatiable appetite for all things spooky, be sure to check out these haunted cemeteries in Michigan!
OnlyInYourState may earn compensation through affiliate links in this article.
Address: 830 Cottageview Dr, Traverse City, MI 49684, USA
Address: 1500 Blakeslee St, Kalamazoo, MI 49006, USA
Abandoned Places In Michigan
March 15, 2021
Are there any ghost towns in Michigan?
Michigan is home to several well-known ghost towns like Fayette in the Upper Peninsula. Once thriving with residents and the iron-ore industry, this town was pretty much abandoned by the turn of the century The site is now a state park visitors can explore and see the equipment used in the iron-ore production and several buildings that were left behind. With the Besser Natural Area lies a tiny ghost town that sits among the trees. This was the town of Bell which began in the 1880s and was abandoned once its post office closed in 1911. There's a trail you can hike along that will lead you to the ruins.
What are the creepiest cemeteries in Michigan?
Cemeteries have long been considered creepy places especially the ones associated with ghostly tales and urban legends. There are many haunted cemeteries in Michigan and older ones, in particular, seem to have more paranormal activity than newer ones. Reynolds Cemetery in Jackson has reported sightings of two spirits, a father and daughter who were murdered back in 1883 along with two others. To this day, the grisly murder has gone unsolved and the ghosts are said to appear every year on one night in November. You can really get creeped out at the William Ganong Cemetery, also known as Butler Cemetery, in Westland where people have reported seeing floating orbs and glowing eyes. Creepy! 
Can I tour any abandoned places in Michigan?
While abandoned places can be thrilling to visit, some are not safe to do so and may even have no trespassing signs posted. There are several around Michigan you can visit and even take a guided tour which is a great way to safely view an abandoned location and learn its history. Eloise Asylum, a former psychiatric hospital in Westland, is a hotbed of paranormal activity and has offered ghost tours and paranormal investigations. This historic Jackson Prison is another place that has offered guided tours. (Check the websites for updates on future tours.)