The Abandoned Village In Michigan That Most People Stay Far, Far Away From
Today, most people stay away from Pere Cheney, Michigan (near Roscommon), but it's not simply because there's nothing left of the place except the old cemetery, nor is it because it's on a difficult-to-travel road that resembles the ruts made by two wagon wheels. No, this abandoned village in Michigan is terrifying for all its own reasons.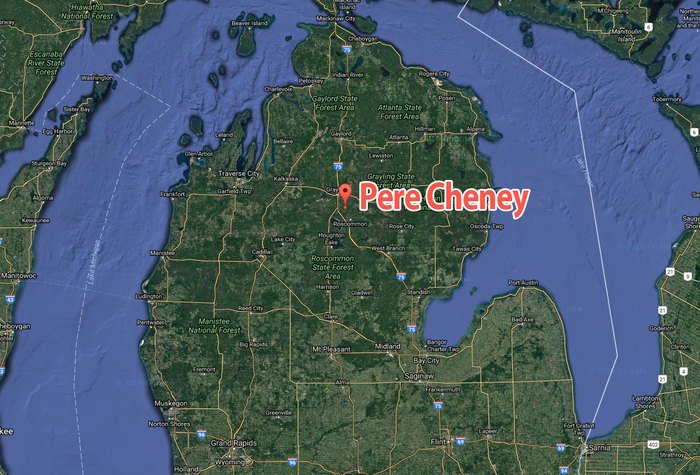 For a deeper look at this abandoned village in Michigan, take a look at the videos above in their entirety:
So… what do you think? Is the Pere Cheney Cemetery haunted? Cursed? Do you really want to find out in person? If you love exploring creepy places, then check out this article: 6 Disturbing Cemeteries In Michigan That Will Give You The Goosebumps.
OnlyInYourState may earn compensation through affiliate links in this article.
Address: Pere Cheney, MI 48653, USA
Abandoned Village in Michigan
July 24, 2021
What are some of the creepiest places in Michigan? 
Somehow, Michigan has made a name for itself among paranormal enthusiasts as one of the creepiest states in the union. It's filled with haunted places, like long-forgotten hospitals, hotels, and even roads that locals dare not trek after dark. For example, in Marquette, there's a hotel that's considered to be among the most haunted in Michigan; it's the old Landmark Inn, where many folks have claimed to have seen an entity known only as the "Lilac Lady". As if that wasn't creepy enough, Michigan is also home to a haunted lighthouse (because of course it is). The Marquette Harbor Lighthouse (Marquette again!) is known for its ghostly goings-on, and while we're at it, let's just say that Marquette itself is a pretty spooky place if you know where all the best haunts are.  
Are there any Michigan ghost towns still standing today? 
Despite the fact that Michigan is deep within the Midwest and not the wild, wild West days of old, there are plenty of ghost towns that are still around. Fayette ended its life as a town and began its life as a park in the 1950s, and there are still several houses standing there. Pere Cheney still has some structures standing, and its history is particularly creepy – most of the residents were wiped out by illness (thought to have been diphtheria) by the 1920s. Glen Haven is a still-there ghost town also protected by the National Landmark it sits on (Sleeping Bear Dunes National Lakeshore).  
Where are some scary haunted places in Michigan? 
The Mitten's got no shortage of supposedly haunted places. In fact, if you take our epic and totally scary haunted places in Michigan road trip, you'll encounter many of them for yourself! Stop by the Felt Mansion, an old, haunted spot said to be crept upon by creatures known as "the melon heads", as if that's not creepy enough. Visit Historic Fort Wayne for old-school spooks from days of yore, and if you're ever in Paulden, keep an eye out for the famous (or should we say infamous) Paulden spook light. What is it? We don't know, and neither does anyone else – but boy, does it give us the creeps.