18 Best Hiking Trails In Michigan: The Top-Rated Hiking Trails to Visit in 2023
No matter your hiking ability, no matter what time of year, there's a hiking trail in Michigan perfect for getting outside and exploring. Trek along a trail by the sandy shores of the Great Lakes or take a walk through the woods — the diverse landscapes here provide a gorgeous backdrop for adventure. And if you love to hike, here are 18 of the best hikes in Michigan.
Best Hikes in Michigan
The best hikes in Michigan may also be considered among the most beautiful. Located in Pictured Rocks Natural Lakeshore and Sleeping Bear Dunes National Lakeshore, you'll get jaw-dropping views along the shores of Lake Michigan.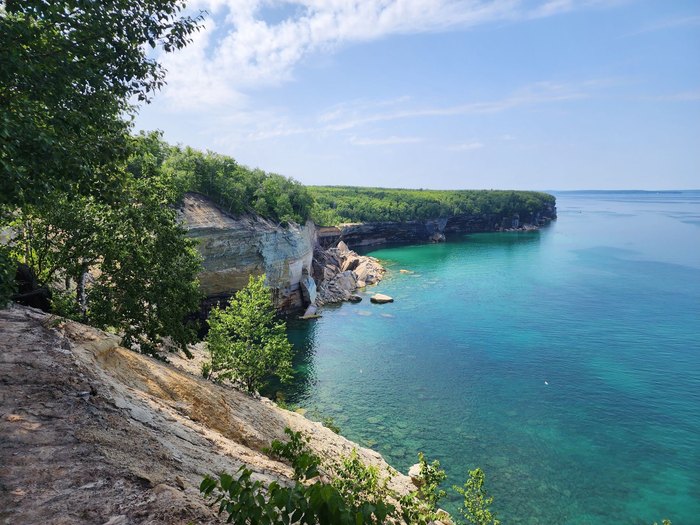 Best Short & Easy Hikes in Michigan
Whether you're a beginner at hiking or want to take children out on the trails, a short and sweet hike is your best bet. But just because these trails are short doesn't mean they are any less beautiful than longer trails. Here are a few of the best short and easy trails for hiking in Michigan.
Hardest Hikes in Michigan
For more of an avid trekker who's up for a challenge and adventure, a longer, more strenuous trail may be ideal. Between Isle Royal National Park, the Porcupine Mountains Wilderness State Park, and Manistee National Forest, you'll have plenty of ground to cover on the following trails that make for some of the hardest hikes in Michigan. Just make sure you prepare well ahead of time for one of these challenging treks.
Best Waterfront Hikes in Michigan
Surrounded by four of the five Great Lakes and with nearly 3,300 miles of shoreline, there are endless opportunities to hike along the water in the state. Here are some of the best places to hike in Michigan where you'll have water views.
Best Winter Hikes in Michigan
Michigan may get to sub-zero temperatures during the winter but that doesn't mean you have to spend the entire season indoors. There are several hikes that are perfect for the winter months. Here are some of the best winter hikes in Michigan.
Best Hikes near Lansing
Lansing is the capital city of Michigan and offers wonderful parks and green spaces for residents and visitors to enjoy. If you don't have time to leave the city but want to immerse yourself in nature for a while, here are some of the best hikes near Lansing.
As you can see, the state is full of beauty and natural wonders you can see along one of our many trails. So, which hiking trails will you be adding to your bucket list?
If you need help with hiking gear, take a look at our Ultimate Hiking Packing List.
OnlyInYourState may earn compensation through affiliate links in this article. As an Amazon Associate, we earn from qualifying purchases.
More to Explore
Best Hikes in Michigan
Does Michigan have good hiking trails?
The state of Michigan is an underrated hiking paradise. With abundant natural beauty and vast miles of lakeshore, here are some of the best places to hike in Michigan:
Pictured Rocks Natural Lakeshore: Situated along Lake Superior, you can hike among sandstone cliffs and rock formations, and enjoy lake views.

Isle Royale National Park: This remote park is accessible by boat only and remains a pristine wilderness area for hiking and camping.

Nordhouse Dunes Wilderness Area: Located along the shores of Lake Michigan, enjoy stunning beaches and sandy dunes as you explore the trails.
What are the best months to hike in Michigan?
Because the state experiences such extreme winters, the best time of year to hike is between May and September in order to enjoy the best weather. However, you can hike just about any month you want to.
Related Articles
Explore Michigan